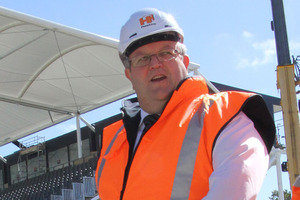 Half of Christchurch's 80,000 earthquake-damaged homes have now been repaired, the Government announced today.
Canterbury Earthquake Recovery Minister Gerry Brownlee said EQC's project managed home repair programme had fixed 40,000 homes so far.
Around 1800 full home repairs are being completed each month - 60 a day - and with around 1300 contracting firms accredited, employing about 5000 tradesmen.
Those figures suggested the programme was in "full swing", Mr Brownlee said.
"A major risk for Christchurch given the extent of residential damage was that confidence in the region's housing stock would fall in the wake of earthquakes," he said.
"Instead, we've instilled confidence, housing values have been maintained, and we're working hard to address land and housing supply as Christchurch's population grows."
The Canterbury Home Repair Programme aims to complete repairs of homes with the most severe damage by the end of this year, as well as repairing the homes of EQC's most vulnerable claimants.
Mr Brownlee said the overall aim was to have most repairs done by the end of next year.
EQC is currently writing to all customers in the Canterbury Home Repair Programme queue to let them know how their claim is progressing.
- APNZ