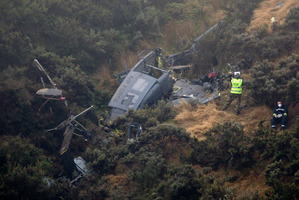 The sole survivor of the Anzac Day 2010 military helicopter crash today launched his court bid to seek criminal prosecutions for his air force superiors.
Sergeant Stevin Creeggan had been travelling with three other members of the Defence Force in an Air Force Iroquois when it crashed in bad weather above Pukerua Bay north of Wellington in 2010.
Flying Officer Daniel Gregory, Flight Lieutenant Hayden Madsen and Corporal Ben Carson died in the crash.
Sergeant Creeggan, who suffered serious injuries, was found 25 metres away from the wreckage.
Details of today's proceedings at the Wellington District Court were suppressed due to sensitive medical information.
APNZ can report that Sergeant Creeggan has applied for an extension in his prosecution against the Defence Force and Chief of the Defence Force because the relevant legislation restricts prosecutions to six months after the incident.
Families of the men involved in the fatal early morning flight, which was found to be caused by major faults in Defence Force systems and an unhealthy risk-taking ethos, are believed to be divided over the Defence Force's response to the crash.
Shortly after the incident, then Defence Minister Wayne Mapp was forced to apologise to Sergeant Creeggan's parents Gaile and John after incorrectly telling the media their son had died.
It was also reported a year later Mrs and Mr Creeggan were denied access to their son after the crash as they were not listed as next-of-kin, when Air Force papers revealed they had been listed.
Last week, the families of the three airmen killed in the crash were offered $70,000 for each death.
Andrew and Pauline Carson, whose son Ben was 25-years-old when he died have sought legal advice over the offer.
The Gregory and Madsen families are believed to be supportive of the Defence Force.
- APNZ