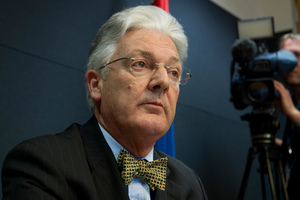 Labour's Trevor Mallard says United Future leader Peter Dunne should not have his funding restored even if his party re-registers, despite Speaker David Carter saying he would revisit the issue if that happens.
The Speaker yesterday decided to strip Mr Dunne of the $185,000 he receives as a party leader because his party was not registered and continuing to fund it would be untenable.
Mr Dunne will be treated as an independent MP and faces a pay drop of $13,900 down to a backbench MP's salary of $141,800. He still gets an extra $64,260 as an electorate MP.
The Speaker also said he would look at reviewing Parliament's rules to take account of the unprecedented situation. He said the rules were unclear on the issue of a party whose registration was cancelled and re-registered while it was in Parliament.
"The Speaker must balance two fundamental public interests: on the one hand, it is not tenable for a party that cannot reasonably demonstrate its wider representative capacity to continue to be funded; on the other, party representation of community interests expressed at a general election should not be interfered with lightly."
Mr Mallard said the Electoral Commission had made it clear that the law required it to treat United Future as a new party and the Speaker should abide by that.
Parliament's rules state that any new party formed during a parliamentary term must have at least six MPs to get funding.
He also said the Speaker's decision to remove funding should be back-dated to the date when the party was deregistered early this month.
"I'm pleased we've got this decision. The important thing now is to ensure funds are not wasted through any fig leaf approach to re-registration."
Mr Dunne said he understood the Speaker's decision and would discuss the issue again when his party managed to register, which he expected would be in a few weeks.
A decision not to reinstate that extra funding would hamper Mr Dunne's campaign in 2014 if he stands again. Earlier this month the Speaker had allowed Mr Dunne to retain his funding for six to eight weeks to allow time for United Future to re-register.
It is taking the party longer than expected to re-register because the Electoral Commission has required signed evidence of membership from 500 party members.
Mr Dunne has criticised the commission for that stance, saying it is ridiculous to treat United Future as a completely new party.
NZ First leader Winston Peters agreed the Speaker should not restore Mr Dunne's funding, given the rules about new parties were clear.
He doubted it would affect United Future's future, because it had none. "It has been dead in the water for some time. When you can't fill a telephone booth at the start of your campaign, you're gone in this business."
Dunne's denial polls poorly
United Future leader Peter Dunne says he will work hard to restore his credibility after almost two-thirds of voters in a Herald DigiPoll survey said they did not believe his denial that he leaked a GCSB report to a reporter.
Mr Dunne resigned as a minister this month after refusing to hand over emails between himself and Fairfax reporter Andrea Vance to an inquiry into the leak of the report on the GCSB. He denied leaking the report.
In the Herald Digipoll survey, 59 per cent of those polled said they did not believe him, 22 per cent believed him and 18 per cent did not know or refused to answer.
Mr Dunne said yesterday he was not surprised by the result.
"I'm comfortable with my own conscience on that matter and at the end of the day I have to be able to look myself in the mirror each morning and feel I did the right thing, and I did.
"I have to work to re-establish my credibility and I'll be seeking to do that."
Speaker David Carter is yet to decide on a privileges complaint laid by Labour against Mr Dunne alleging he misled Parliament by denying he was the leak during a select committee hearing. The Privileges Committee could demand that the emails be produced.