Company's lack of response after one of its drivers scraped her car irks student owner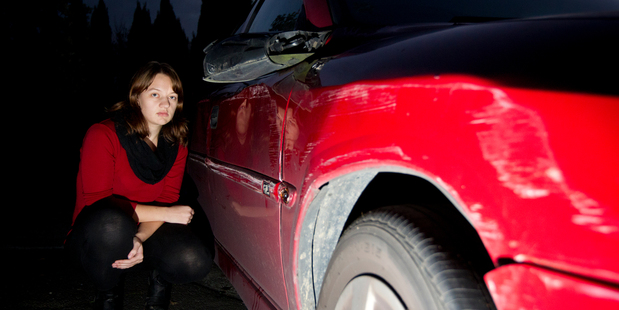 It was bad enough a bus scraped the side of Lauren Kosovich's car, badly damaging it and destroying the wing mirror. But what has really frustrated the Auckland student is that the driver did not stop or bother to leave a note.
And when the 21-year-old tracked down the driver's boss and complained to the company nothing was done to resolve the matter, until the Herald became involved.
The University of Auckland engineering student, who lives in Howick, was inside a Pt Chevalier home about 4.45pm last Tuesday when a neighbour knocked on the door.
"She said a red car has just been hit by a bus, so I went outside and looked at the car and basically broke down, because all of the panels on the right hand side of the car were dented, the wing mirror was basically smashed completely and the bus had taken off.
"I would have had no idea who had hit it if the lady hadn't seen it."
The woman had chased the Metrolink bus and written down its registration number for Ms Kosovich, who informed NZ Bus, which owns the vehicle, that afternoon.
"They called me back the next day, on Wednesday, and said they were looking into it and that's all I heard from them."
Ms Kosovich wanted to get the matter resolved as she needs her car to get to exams and dance classes.
But repeated phone calls to the company did not help resolve the issue, she said.
"My warrant expired on Saturday and I can't get a warrant because the wing mirror and panels are so messed up, so I don't have a car.
"I am a student and I am in the middle of exams so I have an exam on Friday and another on Saturday and need my car to get to them."
When contacted by the Herald, an NZ Bus spokesman said he apologised for the incident and cited "system issues" which caused a delay in usual processes.
Half an hour later, Ms Kosovich said she had been contacted by the company and it had given her its insurance details.
"Because the incident was not reported by the driver, we have had to investigate to determine what has taken place and that has been the reason for the delay," the spokesman said.
"Standard practice is that the driver would have reported it ... We didn't know who the driver was and interviewed the driver on Friday."
NZ Bus was working with the driver to ensure similar incidents did not happen again.
Send your stories, photos or video here.