Duo alleged to have damaged naval property, with one believed to have slept with a rating.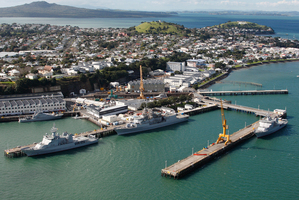 Naval officers drunkenly damaged property and one allegedly acted inappropriately with a rating at the Devonport base after a night out drinking.
The Herald understands the pair went out two weekends ago and returned to the base drunk. They damaged property at the training school and one slept with a rating.
The allegations were put to the Navy and a spokeswoman responded saying: "An incident occurred during Junior Officer Common Training. This incident is now under investigation by naval police. The Navy takes all allegations of [incidents] of this nature seriously."
The spokeswoman said the vast majority of the navy served New Zealand with distinction and they did not condone the "errant behaviour of individuals".
As the investigation was ongoing, the spokeswoman said they were not able to comment further. It's understood the Chief of Navy, Rear Admiral Jack Steer, is aware of what happened.
Once accepted into the navy, officer cadets undertake a 22-week Junior Officer Common Training course at the HMNZS Philomel Navy Base in Devonport. It is not known how many weeks had been completed before the incident.
It comes after a string of other incidents involving navy staff. In December, a young rating allegedly stole a police car and took it for a joyride around the North Shore.
In July 2011, senior naval officer Commander John Butcher, who at the time was captain of the frigate HMNZS Te Mana, swore in front of diplomats at the New Zealand High Commissioner's residence in Port Vila, Vanuatu.
He later had to be pulled away from the throttle of a navy boat. When Te Mana returned to New Zealand, Commander Butcher was relieved of his command and later admitted charges of drunkenness, bringing the service into discredit, and inappropriate language.
He was reprimanded and ordered to pay a $2000 fine, attend alcohol counselling and write an apology to all the dinner guests.
In June 2011, Petty Officer Norman Anderson was sentenced to 21 days in the military correctional establishment at Burnham after pleading guilty to five charges. He had drunk up to 17 beers and cycled away from his ship - while he was meant to be on guard duty.
The navy has a number of alcohol awareness and behaviour programmes for its crew members and all navy recruits participate in the Kia Kaha programme which instils navy core values and aids individuals and groups to make good decisions within the community.
In an interview in the naval publication, Navy Today, earlier this year, Rear Admiral Steer said drinking on a ship "doesn't work" and that there was no place for alcohol in a military activity. "When they come into port, young men and women are going to drink, we know that, so we're going to have to have protections in place, where the culture of looking after your mates is entrenched."
Minister of Defence Jonathan Coleman did not return any of the Herald's requests for interviews but his press secretary, Kirsty Taylor-Doig, said the minister expected that any incident would be "fully investigated through the proper NZDF channels".
Do you know more?
Email amelia.wade@nzherald.co.nz