Voters in Maori seat with high unemployment want to see more from their politicians as next Saturday's byelection looms.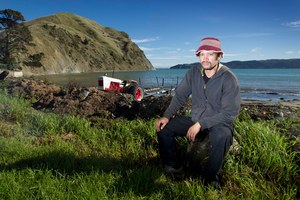 On a golden morning this week, Natana Pohe watched commercial fishermen, wary of the storm warnings, head out into Mahia Peninsula's waters to pick up their crayfish cages.
It's wintertime, so it qualified as a busy morning in the sleepy settlement, which more than 400 Maori call home.
The 36-year-old butcher of Rongomaiwahine descent had hoped that political aspirants for the Ikaroa-Rawhiti seat would be bending over backwards to haul in voters here.
But not one candidate had taken a trip off State Highway 2, which links Gisborne and Napier, to visit for a single public meeting.
Mr Pohe's an undecided voter, one of six the Weekend Herald spoke to out of 29 in the middle of the electorate. "We want to see them," he said. "We have half a dozen marae here, we've got the fishing club, we want them to come here, talk to us, come and put what they want, listen to us."
It's a challenging electorate, not least because of its geography; candidates will eat up hundreds of kilometres in the campaign's final week.
Labour's Meka Whaitiri, the Maori Party's Na Raihania, Mana's Te Hamua Nikora and Green standard bearer Marama Davidson will be travelling up and down the electorate, which runs from East Cape to Wellington, before voting closes next Saturday.
Voters say there is a single driving issue for them. In the rural enclaves in the middle of this electorate between Gisborne and Napier, every person the Weekend Herald spoke to was worried about jobs and employment.
Wairoa's Josephine Rawiri, 52, and her daughter Hayley Campbell, 21, were eating lunch in the sunshine beside the river in town.
Mrs Rawiri had been living in Gisborne but moved back when her husband got a job working on one of the big stations in the district.
Still, with the railway cut because of a slip and the seasonal nature of work in the wider agricultural region, she's anxious about the future for young people.
"Look at the young ones - it's such a small place you notice when they're not doing anything."
Neither knows the Labour candidate's name but nevertheless will be voting that way. Hayley puts it this way: "John Key's doing a suckey job."
The village of Muriwai stands in the shadow of Te Kuri a Paoa, the stark southern headland of Poverty Bay. Also known as Young Nick's Head - named for a crew member aboard Captain Cook's Endeavour - it's a place which marks first European/Maori contact.
Taumanuhiri Marae is the focal point.
Tama Pohatu, 69, lives at Manutuke just up the road. He loves this place and works for Corrections, supervising offenders, who mow old people's lawns at Muriwai. Just like eight others who spoke to the Weekend Herald, he'll vote "Meka" because she's whanau, and he's "always voted for Parekura and always Labour".
The Maori Party and Mana candidates are running close to each other, but their support bases are completely different.
Younger people, in their early 20s, are enthusiastic about Nikora, the former Maori TV karaoke host standing for Mana.
Vinny Herewini, 22, a Flaxmere butcher, says Nikora's presence in town won him over.
Te Karohirohi Kira, 19, a fulltime student and radio announcer, will vote for the first time. She's swinging towards the Greens but likes Nikora.
"He came in here the other day [to Radio Kahungunu], he was awesome. He knows how to translate political terms in a way that rangatahi [youth] can understand."
Older people support the Maori Party's Na Raihania.
Robert Walker, 63, manages a restoration project for the Department of Conservation at Whakaki lagoon.
"Just watching him on the television debates. He's a pretty positive guy. I went for Parekura last time."
A 50-year-old community advocate in Maraenui, who knows Labour's Whaitiri well, says she'll be voting for rival Raihania.
"Meka's never been in this neighbourhood; she wouldn't know Joe Blow on the street here. I like Na the person. For me, it's not about policy."
In Hastings, Flaxmere and Maraenui voters worry about child poverty, crime, jobs and education. Housing is an issue, especially in Maraenui where 102 state homes stand vacant and boarded up, 41 of them because of earthquake concerns.
Pensioner Georgina Taylor, 72, lives in a state house. In winter, she freezes. "My place is cold, very cold."
Turnout in the seven Maori seats is usually low and in Ikaroa-Rawhiti in 2011, only 59 per cent of those on the roll voted.
If that pattern holds true next Saturday, more than 13,500 eligible voters will be sitting on their hands.
A group of four parents at the Flaxmere pool said they wouldn't be voting. Three said they hadn't received enough information about the candidates while a 46-year-old named Donna said she had never, ever voted because politics had "no impact" on her life.