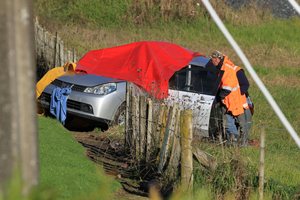 A 42-year-old woman has been killed in the Lower Kaimais this morning.
She was the sole occupant and driver of a car which was making a right hand turn into Ruahihi Road into the path of an unladen logging truck at 8.18am.
The dead woman was the sole occupant and driver of the car, Senior Sergeant Ian Campion told the Bay of Plenty Times.
At the scene the truck is being turned around.
The driver's side of the car is smashed and the car is facing in the opposite direction by a farm fence.
The road will be closed until 11.30am.
Diversions are in place through Poripori Rd for Tauranga-bound vehicles and for Waikato-bound traffic through Cambridge Road, SH2 and Wairoa and Poripori Rds.
Drivers are urged to take extreme care.
For more articles from this region, go to Bay of Plenty Times