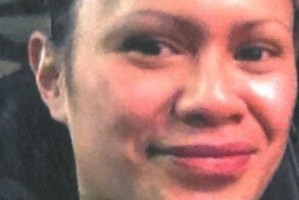 Anxious relatives of a Far North woman who vanished more than a week ago fear she may have been in a car crash before her disappearance.
Barbara Ann Moka, 38, of Rawene, has not been in touch with family and friends since she was last seen in the Hokianga township on the morning of June 9.
Her mother Isobel Moka, who lives in Manukau, has made numerous heartfelt pleas on Facebook for her "baby" daughter to get in touch.
In one post, she said her daughter had left her phone on the charger and taken a shower before she went missing. Another post suggested her daughter may have had a car crash.
Detective Senior Sergeant Rhys Johnston confirmed police were looking into the possibility of a crash involving Ms Moka's car on the Saturday night or Sunday morning of the weekend she went missing.
However, he would not go into detail ahead of a press conference about her disappearance in Kaikohe tomorrow.
Mr Johnston said police were keeping an open mind about what might have happened to Ms Moka, and had not ruled out foul play.
"At this stage we're open to all considerations and, like with any person that goes missing, there are many, many options and we are exploring all of them," he said.
"We're obviously very concerned and we'll be doing whatever we can to try to find her, so we've got to keep our minds open to all possibilities, and certainly we're going to be asking for some public help."
Ms Moka's aunt Katherine Siaki, who lives in Auckland, said relatives were waiting to hear of any developments.
"We've heard nothing - none of the family have heard anything. We're just trying to hear something, but there's absolutely nothing. She just vanished."
Ms Siaki's brother had seen Ms Moka on the day before her disappearance, when she had "seemed happy".
"He said she seemed to be fine, there didn't seem to be any indication that she would go off ... It's very strange."
In a Facebook post yesterday, Ms Moka's mother said she wanted to call out to her daughter as she searched roads and creeks in the area.
"...i want to scream angry hurt but that aint gonna help i just want my baby in my arms please anybody help me find her."
In a post last week, she said: "call mummy barbara ann i love you everything is gonna be alright."
Ms Moka had worked as a receptionist at the Copthorne Hotel and Resort Hokianga in Omapere since November last year, according to her Facebook page.
Police last week described Ms Moka as a thinly built Maori woman, 1.5m tall, with black shoulder-length hair.
Anyone with information on her whereabouts is asked to contact Kaikohe police on (09) 405 2960 or call Crimestoppers, anonymously, on 0800 555 111.
- APNZ