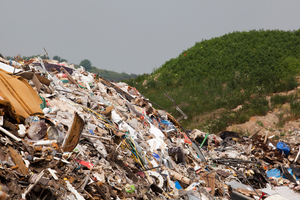 Photo / Thinkstock
The Karamea rubbish tip is in trouble again and this time the Buller District Council, not its contractor, is in the gun.
Toxic waste, including poisons, has been dumped at the tip and may have leached into a whitebait spawning ground.
A local man discovered the hazardous waste there on Saturday.
It included Round Up, bottles of anti-freeze, oil containers and filters, paint, industrial cleaner, batteries, solvents and offal, said the man, who declined to be named.
"It's a mess, an absolute shambles."
The toxic rubbish covered an area of about 20sq m within the tip. Some of the poisons could have leached into a nearby whitebait spawning ground, the man said.
Council's works engineer Tony Robertson admitted the council had breached its resource consent.
He was today trying to contact the site attendant, who worked from 9am to 5pm on Wednesdays, Fridays and Sundays, to find out if the toxic waste had been dumped during or outside of tip opening hours.
In the meantime, he had instructed council-owned contractor WestReef Services to remove the prohibited items tomorrow and arrange for cover material.
WestReef would bring the hazardous waste to Westport and store it in the hazardous waste facility at the Westport Transfer Station until an approved operator could dispose of it.
Oil, batteries and paint would also come to Westport, Mr Robertson said.
Council would arrange for the offal to be disposed of in a farmer's offal pit in
WestReef general manager Stephen Lowe confirmed that council, not WestReef, ran the tip and employed the supervisor. Council called WestReef in only when it wanted specific jobs done there, he said.
WestReef got into trouble itself last month for dumping confidential council documents at the Karamea tip and failing to bury them as instructed.
The West Coast Regional Council dispatched an officer to Karamea at 6am today to assess the consent breach after The Westport News sent it the complainant's photographs.
Compliance and consents manager Jackie Adams said he would decide what action to take once the officer had reported back.
The regional council hoped to discover how long the illegal waste had been at the tip, where it came from, and whether poisons had leached into waterways.
He expected the water test results would be back next week.
Penalties could vary from a formal warning - an infringement notice or an abatement notice - to a court prosecution, Mr Adams said.
"If it's something they were aware of and didn't do anything about, then I'm going to get upset."
The Buller council had been good sticking to its resource consents in the past, Mr Adams said.
Mr Robertson said tests over the last three years showed council had breached its discharge permit into a creek at the tip twice - in August 2011 and February 2012 - when the pH readings were 1.1 and 0.6 respectively. Council's resource consent allowed 0.5.
However, the creek passed through farmland which might also influence the results, Mr Robertson said.
- The Westport News