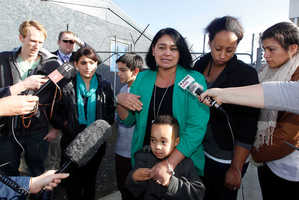 The family of slain pizza-maker Jordan Voudouris have made the difficult journey back to where he was killed exactly a year ago.
The 56-year-old's children and ex-wife Gwendoline Richmond gathered at a memorial garden and headstone created in his honour just metres from where his body was found in a pool of blood in the early hours of June 18 last year.
Members of the Paeroa community, friends and family members gathered for a quiet and brief service to commemorate a year since his passing.
His ex-wife told the gathering "as you will appreciate, it's very difficult to bring the children back to where their father has died".
"They have left little words on pebbles (in the garden) for him and hope others in the community will do the same," Ms Richmond said.
"He loved this town."
She asked for people to respect the family's privacy.
Hauraki District Mayor John Tregidga said the community was frustrated that Mr Voudouris' killer had not been arrested, although they appreciated the efforts of police.