Dramatic five-hour siege at suburban bank ends with arrest after father pleads with gunman to give himself up.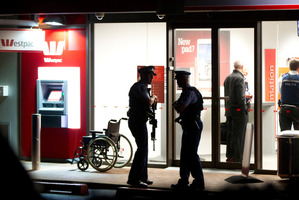 A man will appear in court today after allegedly terrifying staff and customers inside an Auckland bank last night.
The father of the alleged gunman pleaded through a loud hailer for his son to come out of the building before police seized the man to end the five-hour standoff.
The drama - in which nearby office workers and daycare centre children were kept in lockdown - started when the gunman entered the Westpac bank on Great South Rd, Penrose, in a wheelchair about 4.30pm and threatened to harm himself.
Parents of children in the daycare centre waited helplessly behind police lines as officers tried to negotiate with the man.
Superintendent Mike Clement said this morning that the man had gone into the bank with a grievance he wanted to bring to the attention of police.
"He had some frustration, anger with regard to his own health issues and that frustration got the better of him yesterday to the extent that he went into the bank and asked them to contact police so that he could bring that issue to the fore,'' Mr Clements told Radio New Zealand.
Police negotiators could be heard last night saying, "Shaun, you're surrounded. Shaun, we need to finish this now. Put the gun down. Put the firearm down, come outside and we can help you''.
A man was then heard saying: "Do you hear me Shaun? It's your father.''
The gunman had earlier asked to see a friend, but police said that person could not be found.
Despite the wheelchair, it is understood the 41-year-old is not disabled - witnesses saw him walking and the wheelchair was left outside the bank after he was arrested and taken to the Auckland central police station about 9.45pm.
Police said last night the man was likely to face firearms charges in the Auckland District Court today.
Earlier, dozens of people - including 10 children at the Lollipops Educare centre - were told by police to barricade themselves inside their buildings.
Nine people inside the bank were released about 6pm, and the centre children were escorted from the area about 8pm.
Riggie Walia's two-year-old daughter Riam was one of the children at Lollipops.
"I went to pick her up, but then saw all the police cars outside and I just started panicking.
'I called my husband and he called the daycare and found out that they're all safe and he was told 'there's been a robbery at the Westpac'.''
Diana Sinisa, who works in a building opposite and was looking down on the bank, said it was a scary thing to watch.
"We could see everything - the guy holding the gun to his head and people in the bank. He had a gun in one hand and a phone in the other hand. He was just sitting there.''
Salmat call centre saleswoman Emjay McGaughey, 21, was still in her office above the bank with a dozen other co-workers at 8.30pm.
Her colleague saw the gunman walk into the bank unaided, she said.
"We saw him get dropped off by a car with a big black bag and he walked in normally and we have no idea where he got the wheelchair.''
Staff could see dozens of armed police officers "hiding'' around the the building.
"My manager put down all the blinds and told us to stay away from the windows.''
When the bank staff and customers were freed about 6pm, they were upset and crying, she said.
"A lady came up here to see a friend on our floor and she was crying, she looked pretty shaken up.''
Friends Colin Tonga and Jared Simamao were walking past the bank soon after the gunman entered.
"We saw him sitting down with a gun, he was just sitting there and had a gun to the side of his head and he was looking outside,'' said Mr Tonga.
Mr Simamao said the man looked calm and was staring out a window. They could see people walking out of the bank and going upstairs.
Other Salmat workers were evacuated as the siege continued.
"People were really scared,'' said Kate Hedworth. "We looked down and saw people with guns outside the building. It was terrifying.''
Another woman said: "They should have evacuated us, rather than let us stay at work. It was not a nice feeling, knowing that somewhere below you there's a hold-up.''
Transfield Services arrived about 8.20pm and started turning off the street lights.
Students and teachers working late at the nearby One Tree Hill College were evacuated by armed police.
* Do you know more? Send your story, photos or video here.