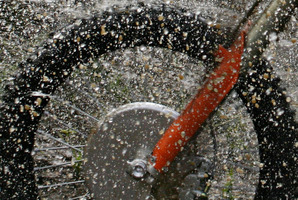 A North Otago dairy worker had to be rescued from his motorbike in chest-deep floodwaters in Kakanui Valley yesterday.
Omotosho Aina, 34, who is from Nigeria, said he had experienced snow during four previous seasons working in Ashburton but was a stranger to flooding.
"I've never seen anything like that in my life. It was really strange," he said.
Mr Aina was heading to work just after 7am and thought his motorbike could handle the floodwaters he encountered on Kakanui Valley Rd.
"But it got deeper," he said.
His motorbike got stuck and he could not go forward or back. The water, flowing towards him, continued to rise until it was up to his chest.
He was able to make a 111 call before his mobile phone got wet and Central South Island Helicopters from Hampden was called out. .
Before the helicopter arrived, a neighbour saw Mr Aina, threw him a rope and pulled him and his motorbike out.
Mr Aina was then picked up by the helicopter and taken home to dry out and warm up. By that time, his house was also isolated by flooding.