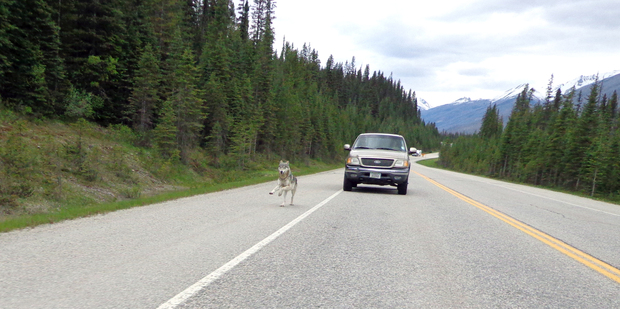 In New Zealand, motorcyclists must be on the lookout for other vehicles, wandering farm animals and the occasional possum.
In Canada, it's a much wilder ride - as Aucklander Tim Bartlett discovered.
Bartlett, 47, was out for a cruise through the Canadian wilderness on his new Yamaha V Star 1100 when he had an extremely rare close encounter with a lone wolf.
"It came out of the trees and came charging at me," said Bartlett. "I swerved to miss it, it came to a stop and I carried on. About 100m down the road I turned around. It was just standing there looking at me."
Bartlett, who is married to a New Zealander, retrieved his camera from his top pocket, did a U-turn and went back for a closer look.
"Then it just started chasing me. For 1km it was right in behind and I would speed up a bit to get out of the way. It was really exciting and bizarre," said Bartlett, who believed the wolf was having fun with him.
As he rode away with the wolf giving chase he held the camera behind his head and kept clicking, but only six shots came out.
Canadian media have gone wild for Bartlett's story and spectacular photographs showing the animal racing along the road.
Bartlett was born in Canada but lived much of his life in New Zealand. Four years ago he and his wife Cathy moved to the ski resort town of Banff, but they return to their home on Waiheke Island every summer.