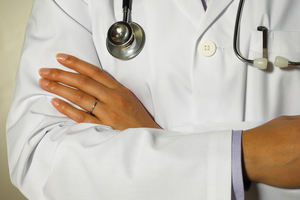 A senior Southland Hospital staff member has apologised for errors which she said may have contributed to the death of a patient two years ago.
A hospital doctor prescribed a 5mg daily dose of the blood thinning drug warfarin to retired farmer Wilhelmus Antonius Brocks when he usually took 2mg, and a hospital pharmacist failed to pick up the error, consultant physician Anne Maloney said yesterday.
Mr Brocks was admitted to hospital on April 16, 2011, with a chest infection.
Dr Maloney told coroner David Crerar at an inquest in Invercargill she understood a blood clotting test to measure how much warfarin was in Mr Brocks' system had been carried out before he was discharged five days later, but it had not.
He was sent home just before Easter with a bottle of 5mg warfarin tablets and instructions to take one daily. He was told to go to his GP for a check-up and a blood clotting test as soon as the doctors' surgery and medical laboratories reopened after the Easter and Southland Anniversary Day break.
A blood test done on the Thursday morning after Easter put his blood clotting tendency at over 10, meaning he would not stop bleeding if he began to bleed.
That required urgent action from his GP's nurse to correct, as blood clotting tendency levels for patients on warfarin should be 2-3.
Early the following day, Mr Brocks (80), of Menzies Ferry, near Wyndham, suffered a brain bleed. He was readmitted to Southland Hospital and died on Monday, May 2.
While Dr Maloney said the drug error was "very distressing" for the Brocks family and hospital staff, an investigation by an independent expert concluded the brain bleed had not been caused by elevated levels of warfarin.
"It may have contributed in that it may have made the bleed a little bit worse ... but the expert found he died of natural causes - of a subarachnoid haemorrhage [brain bleed] or a sudden cardiac arrest."
Mr Brocks had numerous health problems, she said, including heart failure, heart damage, airways disease, and fluid on the lungs.
A post mortem showed he had severely damaged blood vessels in his brain which would have made them "fragile", she said.
Hospital admission and discharge procedures had been reviewed to try to stop such a drug error happening again, she said.
Dr Maloney also apologised for an incident the day before Mr Brocks' death, when two of his daughters entered his room to find him lying "naked and agitated" on top of a bed and a ward assistant sitting in a chair in the room using a cellphone.
They covered him up before their mother and other family members saw him.
What happened was "unacceptable", Dr Maloney said.
Staff had been spoken to and were no longer allowed to use personal cellphones or other electronic devices while on the wards.
Mr Brocks' GP, Dr Kim Nester, said Mr Brocks had been prescribed 1mg warfarin tablets with the instructions: "Take five tablets once daily, or as directed". The wording was her usual practice, she said, and was to give the pharmacist an indication of how many pills to put in the bottle.
She was not aware he had been prescribed a 5mg daily dose until he visited her for a check-up and blood test on the Wednesday after Easter.
When the clotting test results the next day came back at over 10, he was asked to return to the surgery urgently and a nurse gave him 5mg of vitamin K to reverse the effects of the warfarin.
Mr Brocks' daughter, Shona Taikato, asked Dr Maloney why hospital staff had not checked the daily dosage with Dr Nester, or with Mrs Brocks.
Southland Hospital admitted 17,000 patients annually, most of whom were on a "huge number of high-risk drugs", and the Southern District Health Board did not have the resources to ring every patients' GP to check on daily dosages, Dr Maloney said.
However, she conceded the daily dose for patients on warfarin often changed depending on their blood clotting test results and said it might be useful for the hospital to check warfarin dosages with GPs.
Dr Murray Fosbender, while acting head of medicine at Southland Hospital in 2011, chaired a telephone conference and a meeting with Mr Brocks' family.
He said the family's concerns had been listened to and addressed. Some hospital procedures had been reviewed or were in train and the Southern District Health Board was moving to an e-pharmacy system which would hopefully cut down on future drug errors.
Mr Crerar said it was "horrible" to lose a family member in such circumstances and hoped the hospital and society had learnt from the death. He reserved his decision.