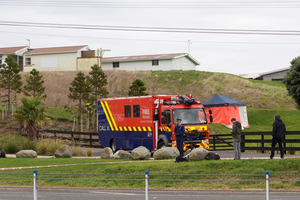 Police have released the name of a man who died after being shot by police in New Plymouth early this morning.
He was Adam Te Rata Charles Morehu, 33.
Police said three separate investigations had been launched after the incident at New Plymouth Golf Club, in the suburb of Fitzroy, about 4am.
Multiple security alarms went off at the premises about 4am and police responded.
Officers saw that windows had been smashed and set up a cordon around the area.
One of the officers found two offenders on a motorbike leaving the scene.
Acting District Commander Inspector Mark Harrison said: "While I am not prepared to go into any further detail at this stage I can confirm that that the offenders have crashed their bike on the golf course as they tried to leave and a police dog has been deployed and detained one of the offenders.
"An officer went to assist the dog with the first offender and during this time the second offender yelled threats and shot at the officers which led to police discharging a firearm.''
Assistant Commissioner Grant Nicholls told a press conference at the New Plymouth Civil Defence Emergency Centre that two police officers attended and saw the golf club had been broken into.
"Two male offenders on a motorbike crashed down a bank and at this stage a police dog has been deployed.
"An unarmed police officer went to assist the dog apprehend the offender into custody. A second offender who remained with the motor bike showed aggressive behaviour and told the officers he was going to kill them. He fired a shot at police. While the offender was going through his back pack an officer has removed a Glock from the police vehicle. He heard the offender reloading his firearm and he was shot by police."
The officers administered first aid. He was still conscious when ambulance arrived but he died a short time later.
Police had launched three separate investigations into the incident.
One would focus on the incident that and the actions of the deceased; a second would independently look at the actions of police; a third investigation would focus on general police policies and procedures.
It was a matter of course for police actions to be investigated when a firearm was discharged, Mr Harrison said.
The scene had been cordoned off and was likely to remain so for a day or two so a full scene examination could be completed.
The Armed Offenders Squad were notified but did not attend.
- APNZ