Drug accused says extradition from Latvia was illegal and his trial delayed too long.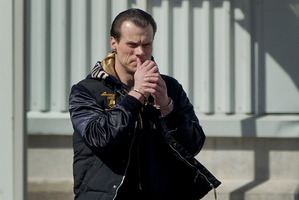 An alleged international drug supplier tried to argue his extradition from Europe was illegal in a bid to have the case against him thrown out.
As a result of his arrest, Rokas Karpavicius said he was held in degrading prison conditions in Latvia for 11 months where he was held in 23-hour lock-down each day and allowed to shower only once a week.
Karpavicius' lawyer Graeme Newell said his client was unfairly prejudiced because too much time had passed since the trial of his co-accused in 2010 and he was now unable to produce telecommunications records from Europe as alibi evidence.
The Lithuanian national also wants two co-accused who were acquitted at the Operation Keyboard trial in Auckland to give evidence in his defence at his upcoming trial but their whereabouts was now "unknown".
But Justice Mark Woolford said there was no evidence of prosecutorial misconduct in the delays and the submissions did not meet the high threshold for a permanent stay of proceedings.
The trial, in which Karpavicius is charged with importing Class A and B drugs as well as money laundering, is scheduled for September and will go ahead.
He has pleaded not guilty.
The 33-year-old was living overseas but his name surfaced at a trial in the High Court at Auckland in 2010 where he was alleged to be the head of a global drug and money-laundering syndicate.
The Operation Keyboard investigation began in Australia in January 2008 when Sydney police discovered that a shipment of granite sculptures sent from Lithuania concealed 28kg of amphetamine.
Further inquiries found a nearly identical shipment to Sydney in February 2007 and two to New Zealand that same year.
The police case is that Karpavicius was the man behind the drug smuggling enterprise and his prints were allegedly found on a Harry Potter book couriered from Spain to Auckland which had the Class A drug LSD hidden in its spine.
Photographs produced at the original trial show Karpavicius lounging on a luxury yacht in Europe surrounded by bikini-clad women.
He was arrested in Latvia in late 2011 where he was held in custody and two detectives escorted him back to New Zealand last October.
Rokas Karpavicius
*Born in Lithuania
*2010: Identified in a High Court trial for Operation Keyboard as the alleged mastermind smuggling drugs into New Zealand.
*2011: Arrested in Latvia on an Interpol warrant.
*2012: Extradited to New Zealand to face Operation Keyboard charges.
*2013: Due to stand trial on charges of importing Class A and B drugs as well as money laundering.