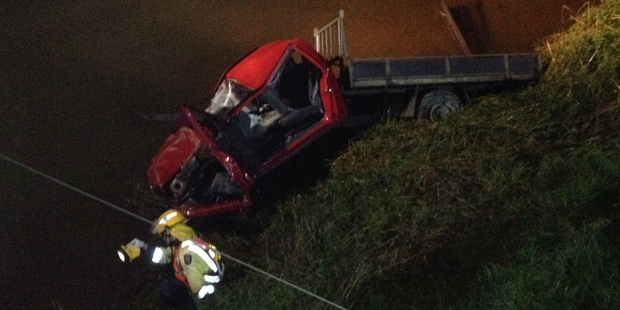 A Kawakawa man is lucky to be alive after a spectacular crash in which his ute shot off a bridge, Dukes of Hazzard style, and landed about 30m away on the far side of a river.
The amazing crash occurred at the Taumarere Bridge, on Paihia Rd about 5km north of Kawakawa, at 6pm on Sunday. Police, St John ambulance and firefighters from Kawakawa and Paihia attended.
Kawakawa fire chief Wayne Martin said it appeared the driver was heading down Lemon's Hill when he lost control, crossed the median strip and mounted a crash barrier, which acted as a launch ramp and sent his ute flying through the air.
The ute almost cleared the Taumarere River, landing an estimated 30m away against the bank on the far side of the river. The vehicle came to rest partly submerged but the right way up.
"If it had landed upside-down it would have been a different story," Mr Martin said.
The cab was crushed by the impact but the driver managed to free himself with only a little help from a passer-by. The drop from the bridge to the river below was at least 10m.
"How he survived is beyond me," Mr Martin said.
A St John spokesman said the driver was the luckiest man he had seen in his ambulance career so far. "Buying a Lotto ticket should be his priority when he gets out of hospital," he quipped.
The 40-year-old suffered only neck pain, a nasty gash to one arm and mild hypothermia from his dunking in the river. He was taken to Bay of Islands Hospital in a moderate condition. Police are investigating the accident.
For more articles from this region, go to Northern Advocate