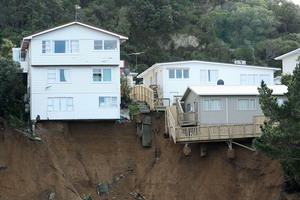 People left homeless by a huge landslip in Wellington are being offered clothing and help while they remain barred from their precariously perched houses.
Residents of Priscilla Cres and Breton Grove in Berhampore reported hearing loud rumbling sounds as the face of a hillside came crashing down about 4.30am on Saturday.
The slip forced the evacuation of eight homes and the Kilmarnock Heights Rest Home, which has an access way in the path of the slip.
Rest home residents were given the all-clear to return on Saturday, but about 35 residents of other properties had to stay in emergency accommodation because of fears the slip could move again.
Eight houses remained off-limits yesterday while building inspectors and geotechnical engineers inspected the stability of the land around the slip. Some of the houses could be given the all-clear for re-occupation by the middle of the week, but three properties on the edge of the slip, which was estimated to be 40m wide and 150m long, might never be safe to live in again.
Wellington mayor Celia Wade-Brown said it was too dangerous to enter those houses.
Some of the evacuees, many of whom were renting, had been able to retrieve belongings.
Ms Wade-Brown said the council's welfare staff were working with the Salvation Army, Work and Income and other agencies to help the people left home-less.
About half the residents had been able to find accommodation with friends, neighbours or family, while the council had provided motel accommodation for the rest.
- APNZ