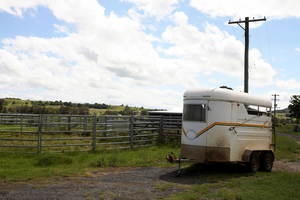 An eagle-eyed police officer spotted a horse float stolen last week from a house in Gisborne while searching for drugs and stolen property.
It was one of seven search warrants executed on properties yesterday, resulting in eight people being arrested and charged with possession of cannabis for supply, manufacturing cannabis oil, cultivation of cannabis and receiving stolen property.
"A significant amount of cannabis and cash was seized," Detective Mathew Harvey said. "Cannabis was also seized at the house where we recovered the horse float," he said.
The distinctive lime-green float - taken from beside a house in Centennial Crescent, Elgin - was found newly-painted in the backyard of a house in Ralph Street in outer Kaiti - the other side of town.
Detective Nick Wilkie was among police who searched the property.
"I saw a recently-painted float at the rear of the section and an article in the Gisborne Herald about one that had been stolen jogged my memory," he said.
"I got a knife and scraped away some of the new paint, and saw the green paint underneath."
A 31-year-old man was arrested and has been charged with receiving stolen property.
"Inquiries are continuing into who stole the trailer," Mr Wilkie said. "We found another single-axle trailer at the property and we are looking into that as well."
The horse float was returned to its owners yesterday.
"The complainant was really happy to get such a nice float back."
It not only had a new, bright blue paint job but new tyres and lights. Even the rust was gone.
Owner Jenna Baty said she could not believe it.
"It's completely different. They even fixed the ramp. It's a really nice-looking float now. We're so happy to have it back."
Mrs Baty said she was so thankful to the police who found it.
The interior of the float was still the same and it was returned to the Batys yesterday.
The theft of the float upset the family as it had only been used "for good purposes".
Mrs Baty had worked hard to buy it in the first place. At least five slow race horses had been saved from becoming "dog tucker" by being transported in the float. Mrs Baty would either find new homes for them or keep them for the kids to ride.
The large float was also lent to people moving house.
Detective Harvey said the successes of the last few days had been due in no small part to information supplied by members of the Gisborne community.
"The value of the partnership between the police and the community has once again been highlighted."
- The Gisborne Herald