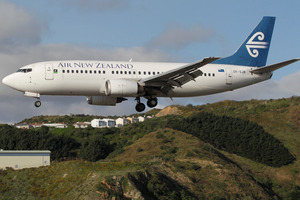 Wellington Airport will push ahead with a planned $300 million extension of its runway after the council voted to support the project.
The airport will apply for consent to extend the runway for long-haul flights following Wellington City Council's 11-2 vote yesterday in support of the project.
A runway extension of about 300 metres to the north would make long-haul services viable, enabling larger twin aisle jets such as the B787, A350 and B777 to fly direct to Asia, said Airport chief executive Steve Sanderson.
If it goes ahead, "more than 1000 people would be flying long-haul to and from Wellington every day".
The tourism generated was estimated to contribute $44 million a year to the region and provide more than 300 jobs, he said.
An expected increase in international students would also contribute around $70 million a year.
"The resource consent process will take about two years, with Wellington Airport and Wellington City Council each committing $1 million to the process," he said.
"It will cover all aspects involved with the extension, especially the environmental and economic impact and will ensure the community is consulted."
Strong demand for long-haul was supported by Wellington's "highly mobile and affluent" market, which had the highest number of business travellers, he said.
Wellington Mayor Celia Wade-Brown supported the extension, saying it was crucial to attracting long-haul flights and would grow the economy of the lower North Island.
"Many of the benefits are to the wider economy. That means more jobs in the capital," she told TV3's Firstline today.
Councillor Stephanie Cook said there would be numerous benefits if the runway was extended.
"Business attraction and the ease of doing business in Wellington by having those direct connections."
The runway extension is likely to take five to seven years from the consent process to full operation.
- APNZ with Newstalk ZB