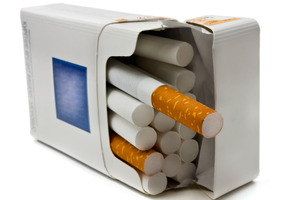 Plain tobacco packaging doesn't slow down transaction times for retailers, according to a study supported by anti-smoking groups.
Action on Smoking and Health (ASH) said the study refuted the tobacco industry's claims about the impact of the change.
The study, published in Tobacco Control journal, looked at the impact of plain packaging on small shops in Australia.
The time taken for shop assistants to identify and retrieve tobacco was measured twice before and twice after plain packaging was introduced in Australian shops in December 2012.
After plain packaging was introduced average transaction times increased by two to three seconds to around 12.5 seconds, but this quickly returned to normal and was recorded at 10.37 seconds in February.
The time was counted from when a specific pack was requested to when the tobacco was scanned or placed on the counter.
"The tobacco industry and their front groups were parroting the idea that plain packaging would significantly impact on transaction times in shops. This shows that this is not the case," said ASH communications manager Michael Colhoun.
The study contradicts research from the tobacco industry which claimed it would take longer to serve standard packs of cigarettes, confuse shopkeepers, cause queues and disrupt shops, he said.
New Zealand Association of Convenience Stores (NZACS) chairman Roger Bull disagreed with the findings of the study, saying it ignored key information such the time retailers spent checking and sorting stock, and making sure brands were in the right channels in tobacco units.
"When all the brands essentially look the same, it now takes longer times for retailers or their staff to manage their stock.
"The findings reinforced the association's view transaction times increased when plain packaging was first used," said Mr Bull.
"While a second here or there doesn't seem like much, when you compound this hundreds of times a day, across over 6500 stores across the country, the impact on retail businesses is actually very real."
British American Tobacco New Zealand said retailers had a variety of concerns about plain packaging, including transaction times.
Head of corporate and regulatory affairs Susan Jones said the company shared retailers' concerns that plain packaging would not reduce smoking rates but would place an additional burden on their businesses
"In New Zealand a large proportion of tobacco is sold through small, independent retailers. It would be particularly difficult for these businesses to sustain the increased cost burdens that are not covered in this research."
Ms Jones said BATNZ also opposed plain packaging because of the risk of growth in the illegal market, and because it would be a troubling precedent for other legal products.
The study was supported by anti-smoking groups and cancer research organisations in Australia and the UK.
- APNZ