About 25 per cent of the business Auckland lost to Tauranga after Maersk switch is returning.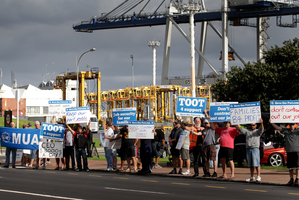 Auckland's port company is welcoming back some of the hefty chunk of business lost to Tauranga during a wave of strikes.
Although it expects to regain from July only about a quarter of what it lost from a reorganisation of port calls by shipping giant Maersk 1 years ago, chief executive Tony Gibson said yesterday that the new deal offered potential for more business and confirmed Auckland's position as the country's premium gateway for imports.
"This new service, with bigger ships and larger exchanges of containers, cements our position as the import port of choice," he said.
Mr Gibson said this followed improved productivity, assisted by a new shift and roster system for more than a third of stevedores not covered by the majority Maritime Union, with which his company is still involved in pay talks after almost two years.
Union president Garry Parsloe said patterns of work among the minority group were still "basically the same" as for his 200-or-so Auckland waterfront members, and shipping lines of Maersk's size did not organise their schedules according to individual port rosters.
In announcing its intention in December 2011 to remove half of its annual schedule of 104 port visits from Auckland to Tauranga, Maersk said industrial unrest had played a part in its decision.
The pay and roster dispute behind a series of strikes and lockouts has still to be resolved, but hopes are building for three days of negotiations next week after the union withdrew its opposition to lifting court orders restricting the port's ability to hire and train staff, in return for assurances that its members would be treated fairly and not be discriminated against in their employment.
Ports of Auckland estimated at the time of Maersk's earlier move to Tauranga that it would lose 82,500 containers worth almost $20 million in annual revenue - about 11 per cent of its overall business.
That was followed by Fonterra's decision to transfer up to $7 million of its business from Auckland to Tauranga.
A port spokeswoman said Maersk's latest decision would result in about 20,000 more containers a year being imported through Auckland on larger vessels, after a switch between the line's Southern Star and Northern Star services on their New Zealand-Southeast Asia runs.
Before last year, both services came through Auckland, while Tauranga handled only the export-dominated Northern Star service.
Port of Tauranga boss Mark Cairns said it was too early to assess what the loss of the Southern Star service would mean for his company.