Andrew Stone talks to the author of a book about New Zealander George Lowe and his stunning photographs from the first ascent of Everest, 60 years ago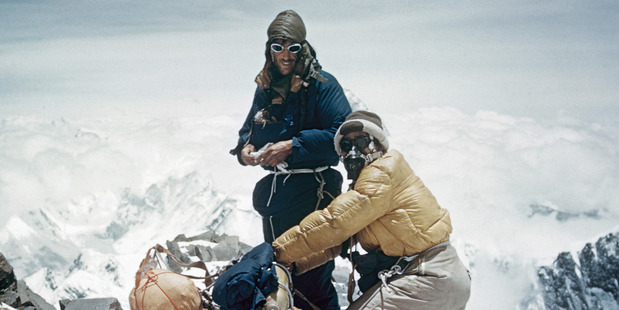 "I am the last man standing," mountaineer George Lowe wrote in his extraordinary collection of images from the first ascent of Everest.
He listed the climbers from John Hunt's 1953 expedition who in recent years had "gone on their final journeys". Brits Tom Bourdillon and Wilfrid Noyce, his route-finding partners on the Khumbu Icefall, George Band and Mike Westmacott and, the giant of them all, his fellow New Zealander and great friend Ed Hillary.
The last man standing, the so-called "forgotten man" of Everest, has now gone too. Lowe, who was 89, died in March at a nursing home in Britain. But in the last few years of his life George and his family worked with historian Huw Lewis-Jones on The Conquest of Everest, a richly illustrated account of the historic climb.
Sadly Lowe, whose health faded as he entered old age, missed its publication, which coincides with the 60th anniversary of Hillary and Sherpa Tenzing Norgay's achievement. But his photographic legacy is a compelling record of endurance, courage and companionship.
To turn the pages is to enter a time capsule. Lowe's high-altitude colour Kodachrome photographs have a slightly faded quality. His climbers, their faces grim and determined, are cocooned in bulky, cumbersome and sappingly heavy gear. His images of the Sherpas show a sturdy curious people, some carrying impossibly big loads for Hunt's military-style expedition. They capture a time, it seems, when Everest challenged adventurers, rather than customers.
Speaking from Cornwall, where he runs a specialist polar publishing business with his wife, Lewis-Jones says Lowe and Hillary, in May 1953, were fit, strong young men having the time of their lives.
"They were the best climbers New Zealand had to offer. George's icecraft was said to be second-to-none and the amazing work he did on the Lhotse Face was one of the keys to the climb," said Lewis-Jones.
Expedition leader Hunt reached the same conclusion after the ascent. Lowe, said Hunt, "put up a performance which will go down in the annals of mountaineering as an epic achievement of tenacity and skill."
The son of a fruit-grower, and the seventh of eight children, Hastings-born Lowe didn't start climbing until he was 21. By his own admission he was terrified by heights. Even more remarkably, a childhood accident in which he broke his left arm by his elbow left him with little strength in the limb for the rest of his life.
And though determined, Lowe concedes he was "somewhat hampered by a broad stream of cowardly feeling which gripped my entrails whenever I was called on to show even a slight degree of athletic enthusiasm".
Yet this is the same man who, the day before Hillary and Norgay pushed on to the top of Everest, hauled 50lbs (22kg) of gear up the South-East Ridge to within 300m of the 8848m summit. Together with Alf Gregory and Sherpa Ang Nyima, Lowe helped set up the highest campsite in the world in the thinnest of air.
Known as Camp 1X or Ridge Camp, the ledge was too small for the rangy Hillary and his Nepalese companion to lie down. For the few hours before they climbed into history, they spent a cramped night, dozing fitfully. Tenzing brewed chicken noodle soup, they ate sardines and dates and drank hot lemonade.
Around 6.30am, they set out on a five-hour slog to the peak.
At 11.30 on the morning of May 29, 1953, they stood on the summit and Hillary took his famous picture of Tenzing waving an ice-axe. Tenzing left a chocolate bar, some sweets and biscuits as a gift to the gods. Hillary planted a tiny crucifix that Hunt had given him.
In the 15 minutes they spent on the roof of the world, Hillary took a leak. "Having drunk so much lemonade," wrote Lowe, "Ed later told me he had no choice but to urinate on it. Relief indeed!"
Lowe and Hillary were lifelong friends. When Hillary married his sweetheart Louise Rose, best man Lowe went on the honeymoon. Post-Everest, when Hillary toured the United States giving lectures, Lowe broke the ice as the warm-up speaker for their "how-we-did-it, why-we-climb-it" talks. It was, Lowe recalled "nightly climbs over glassy peaks of scotch or bourbon on the rocks". When Peter Hillary, Louise and Ed's son, was born, George was made a godparent. And once, in 1956 when the pair were in Antarctica, Lowe saved Hillary's life. They were on an ice floe, trying to clear a path for their ship, Theron, when a rope-end wrapped round Hillary's ankle.
"Quickly yet calmly, George managed to knock it free before it came tight. A moment later and I would have been sucked under," recalled Hillary.
Fittingly perhaps it was to Lowe, who was waiting, cold and weary and expectant on Everest's 7879m South Col, that Hillary uttered his triumphant line "Well George, we knocked the bastard off!" - a remark which Lowe broadcast to the world.
After Everest, when the fuss died down, Lowe explored and climbed in Greenland, Greece and Ethiopia, taught at schools in Britain and Chile, and became Her Majesty's Inspector of Schools for England. He married Susan, one of Hunt's four daughters, and they had three sons. With his second wife Mary, Lowe played a key role in setting up the Himalayan Trust UK, the charity Hillary founded to help the people of Nepal.
Lewis-Jones says Lowe deserves recognition as "the third man" on the first Everest ascent, who toiled cutting steps in extremely steep slopes and worked tirelessly in what climbers know as the "zone of death".
Says Lewis-Jones: "Imagine if Hillary had done a Mallory [British climber George Mallory disappeared high on Everest in 1924. His body was found in May 1999] and vanished at the top. George would have had to mount a rescue mission to find his friend.
"He's right up there in the crucial part of the story. He's the first to know of the success, and the next day, when they come down the Lhotse Face, it's George on the front of the rope and he points to the summit and gives the thumbs up to Hunt and the rest."
At the same time he managed to take swags of photographs with a trusty Kodak Retina II and, when Tom Stobart, the expedition's cameraman fell ill, Lowe took moving images with a 2kg cine camera.
The job wasn't easy. John Hunt remarked that taking photographs "upwards of 25,000 ft, in fifty degrees of frost, often delicately balanced on difficult ground, with a murderous wind blowing , a heavy load on your back and an oxygen mask on your face requires, indeed, a great deal of resolve."
In the bone-chilling Everest nights, Lowe shared his sleeping bag with his cameras to stop them freezing. As he climbed he kept his cameras tucked inside his down jacket, close enough to reach to record a moment.
"He was always the guy," says Lewis-Jones, "willing to put his hand up and say he'd do it."
The film Lowe helped make, The Conquest of Everest, was nominated for an Academy Award in 1954 - and booked George his passage as official photographer in the transantarctic expedition of 1955-58, led by the British explorer Vivian Fuchs. Antarctic Crossing, the film he made from that journey, was also Oscar-nominated.
"George was part of two of the great expeditions of the 20th century but now people make whole careers out of something much less," Lewis-Jones remarked. "Yet he didn't really shout about his achievements. He was a gifted and talented guy who was modest about what he'd done."
In the course of producing the book, Lewis-Jones got to know and respect Lowe and his family. "As a historian you don't often get to meet your heroes, let alone write their story."
Inside George's front door, tucked in the brolly stand, was the ice-axe Lowe had carried all his climbing life. And on his desk sat a small piece of grey rock - a shard from the summit of Everest, given to him by Hillary when he descended to the South Col. When he visited, the author says he couldn't help but admire these two pieces of modern history, kept close at hand but not in any boastful way. On the coldest of days, Lowe would use it to clear ice from the outside path.
"George was comfortable with his achievements. He came back down and lived a normal life. Ed couldn't do that. He used his fame for the people of Nepal but he couldn't be normal like George. Yet he never begrudged Ed for one moment. He felt they had achieved something together and was happy with that.
"George is a pretty special man. We are proud of Ed, and we should be every bit as proud of George."
• A memorial service for George Lowe will be held next month.
Where: Hastings Parish Church
When: 10.30am, Sunday, June 30.