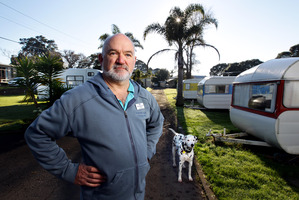 The Takapuna Beach Holiday Park, which has been running on a month-to-month basis since its lease expired in March, is allowed to take bookings for this summer and possibly longer.
The future of the 80-year-old waterfront camping ground looked grim last week when it was shut out of a spot in the future reserve plans by its landlord, Auckland Council.
Operator Marius Rothmann was shocked to learn a resource consent for tourists' flats and a manager's residence expired in January 2014, with a condition they be removed.
However, on Tuesday night, the Devonport-Takapuna Local Board approved a reserve management plan for the next 10 years which did not flag any other immediate use for the park's space.
Board chairman Chris Darby said there was scope to work with the park operator on an arrangement to keep the park open in the short to medium term.
The Herald understands the holiday park pays the council about $160,000 a year for the privilege and the board and council were surprised by the scale of the public outcry about its demise.
A Save the Takapuna Beach Holiday Park Facebook page received 8200 "likes" and the panel examining the future of the reserve received a petition with 2037 signatures.
Mr Rothmann said after meeting council officials yesterday that he was now able to take bookings for the summer "and probably a couple of summers".
He regretted that the council had not talked to him earlier if the plan had room for self-contained motor homes. They were most of the park's business and he was happy to keep operating that part, though the five motel units were popular.