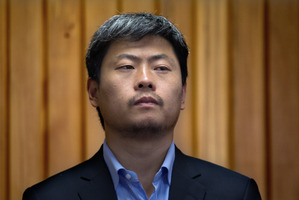 "Runaway millionaire'' Leo Gao's bid to have his jail sentence reduced has been rejected by the Court of Appeal.
In its judgement released today, the Court of Appeal said Hui "Leo'' Gao's good behaviour before he stole $6.7 million from Westpac could potentially have made him eligible for a three-month deduction to his jail sentence.
However, the Appeal Court justices found it was the High Court judge's discretion to sentence Gao to four years and seven months in jail.
"We agree that it would have been open to the judge to apply a further discount to reflect [Gao's previous good behaviour] if he had thought it appropriate to do so,'' the Court of Appeal said.
"In the end, however, the judge was not required to provide the discount that Mr Gao's counsel sought. Discounts of this type are very much a matter of sentencing discretion.''
Gao admitted seven charges relating to the theft of $6.782 million. During a hearing in the Court of Appeal last week, even the inquiries from three justices could not shed light on what happened to $3.7 million of the stolen funds that was still missing.
Gao became rich after applying for a $100,000 loan to keep the doors open at his struggling petrol station in Rotorua.
Instead, Westpac transferred $10 million after a clerk put the decimal point in the wrong place.
Gao transferred the money overseas to 23 bank accounts before fleeing from New Zealand. Despite the best efforts by Westpac and authorities to recover the money, $3.7 million is still missing.
Defence lawyer Ron Mansfield told the appeal hearing the bank had liquidated the property owned by Gao, who was declared bankrupt earlier this year.
The Appeal Court justices said it was for Gao to establish what had happened to the outstanding $3.7 million.
- APNZ