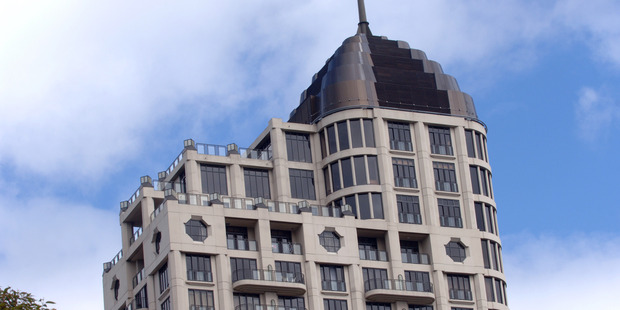 A resident of New Zealand's tallest apartment tower has lost a bid to injunct body corporate members.
John Chung Ching Chen, who has a level-34 apartment, engaged defamation specialist Julian Miles, QC, for his case in the High Court at Auckland against multimillionaire Peter Francis, Pumpkin Patch founder Sally Synnott, CBD retail businessman Roger Apperley, John Morris, John Carter and others.
Chen took action against residents on the body corporate committee in the 40-level block, considered one of the country's best, as well as Crockers Body Corporate Management.
This year, he and a disgruntled group with 65 units became concerned about aspects of the tower's management.
Justice David Collins said the group was aggrieved that the body corporate committee had extended a contract with the building manager for a further five years.
They complained about the budget, questioned fiscal management and the lack of a proper tender process and said the manager's contract was illegal.
Claims were made that Metropolis residents were paying 33 per cent more than owners of apartments in any other building.
Chen also stood for the body corporate, but a letter circulated last month from the body corporate sparked defamation proceedings.
He claimed it contained untrue and defamatory statements and "false and spurious personal attacks on him", the judge said.
His application for an interim injunction to prohibit the defendants repeating the statements was dismissed.
The body corporate said there was nothing defamatory and Chen was "obdurate and litigious", the judgement said.
The judge outlined Chen's extensive litigation history which included proceedings brought by his Theta business, which manages other apartment blocks in Auckland.
The body corporate committee members and the manager emailed Metropolis owners on April 12, saying they were having problems with Chen at a meeting.
"Very quickly it became obvious to all of us that Mr Chen's only agenda is to advance his commercial aspirations which centre on a complete takeover of all aspects of the management of Metropolis ...
"There was no interest in hearing anything we had to say. At the end of the meeting we were presented with legal proceedings," wrote Apperley, Francis, Synnott, Morris, Carter and the manager.
"The issue of the proceedings can only be seen as the beginning of a divisive and litigious management style."
If such a style became entrenched, Metropolis would be turned into "an undesirable address plagued by disputes" with a "reduction in the quality of life in the building. If this occurs, the likely negative impact on values is obvious".
The judge said that if Chen truly believed he had been defamed, he had the option of seeking damages and he ruled the defendants were entitled to costs.
Metropolis
*New Zealand's tallest apartment tower built in 1999
*40 levels and 350 apartments
*Incorporates a hotel and includes a function centre, swimming pool, spa pools and gymnasium
*$180 million construction cost led to financial problems for developer Andrew Krukziener