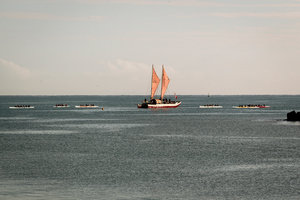 Two traditional double-hulled waka and their crews have arrived in Doubtless Bay in Northland after a 10-month historic voyage across the pacific Ocean.
The crew left Auckland's Waitemata Harbour last August and travelled to Rapanui (Easter Island) before returning to New Zealand today using only the stars, moon, sun, ocean currents, birds and marine life to guide their 10,000 nautical-mile journey.
Associate Tourism Minister Chris Tremain praised the efforts of the waka hourua crew who were greeted by family, friends and supporters.
"This is a significant achievement and a true testament to the traditions and skills of tangata whenua. By retracing the journey that their ancestors took, the crew have helped ensure the retention of indigenous navigational and environmental knowledge for future generations of New Zealanders," he said.
Overall there have been 60 crew members from different New Zealand iwi aged from 18 to 67, during various stages of the journey, who weathered storms, cold weather and extreme swells, said Mr Johnstone.
The journey was organised by the New Zealand Maori Arts and Crafts Institute in partnership with Te Taitokerau Tarai Waka, with the aim of teaching Maori and Polynesian culture particularly traditional sailing methods to future generations.
- APNZ