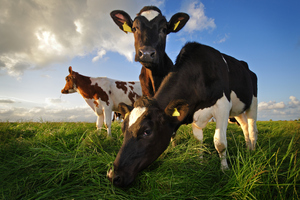 An Opotiki dairy farm and its director have been fined $37,000 for discharging effluent from a pond and ordered to complete a dairy farm effluent management course.
Riverlock Farms of Waioeka Rd and its manager Geoffrey Brown were sentenced at Rotorua District Court this week.
In December last year Riverlock Farms, which has been operating for more than 20 years and milks about 1450 cows, Geoffrey Brown and his brother Ian were fined $74,000 plus costs for discharging contaminated underpass liquid to waterways in October 2011.
They were also convicted and discharged on a charge of breaching an enforcement order imposed as part of a 2010 offence.
While preparing evidence for last year's defended hearing, a council officer found the farm's underpass pond overflowing into a roadside drain, which flows to the Waioeka River and out to sea, said Bay of Plenty Regional Council.
Samples showed high bacterial readings.
The river is a habitat for indigenous fish species and blue duck, a whitebait spawning site and a regionally significant trout habitat and fishery.
The Court heard that there had been two previous prosecutions for effluent overflows at the farm.
Judge Jeff Smith said the penalty would have been higher if the defendants had not made significant improvements to the farm's effluent system, including installing three new storage ponds.
Bay of Plenty Regional Council spokesman Malcolm Whitaker said conviction and penalty was a clear message "discharges of this nature are not acceptable".
- APNZ