Historian says Auckland commemorates a dud mediocrity who stuffed up in Afghanistan.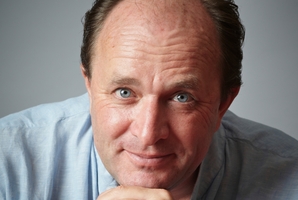 The city of Auckland was named after "a dud ex-colonial mediocrity who stuffed up on a quite spectacular scale", says British historian William Dalrymple, who is in town for the Auckland Writers and Readers Festival, which runs until Sunday.
George Eden, 1st Earl of Auckland, was appointed Governor-General of India in 1836, and approved the first British invasion of Afghanistan in 1838, a campaign which ended in a rout for the British Army and ignominy for Lord Auckland.
In 1840, New Zealand Governor William Hobson renamed Tamaki after Auckland, his former First Lord of the Admiralty. Dalrymple, whose new book Return of a King describes the Afghanistan campaign and its gruesome consequences, finds irony in the name of our city.
"Auckland's man on the spot, William Macnaghten, sent him a succession of letters saying, 'It will all be fine, these Afghans are just like little children who need a touch of the schoolmaster's whip'.
Then Macnaghten was shot, eviscerated and his head and hands were paraded around Kabul on spikes.
"Auckland hadn't seen this coming at all and there's this description of him in Calcutta lying on the grass face down, beating his hands on the lawn. He had a breakdown. He was shipped home in disgrace and got a minor job again in the Admiralty and I think it was at that point when this new [British] possession called New Zealand had a city named after him."
Dalrymple sees echoes from Lord Auckland's choice to invade Afghanistan with President George Bush's decision to send in American troops in 2001.
"Auckland was surrounded by this cabal of Russo-phobic hawks who had their own agenda. The image of modern politics that comes to mind is Dubya surrounded by neo-cons. Dubya famously once thought the Taleban was an all-girl band in a multiple-choice question. Auckland wasn't quite that stupid but he wouldn't have done much better in a test."
During his research for the book, Dalrymple drove through the Khyber Pass, the scene of the 1842 British retreat in which thousands died.
"The head of Karzai's security in Kabul pulled me in, gave me an interrogation and a bad book review," he laughs. "He'd read my last book, The Last Mughal, and told me next time I'd better do a better job. He teamed me up with this warlord ... a mountain of a man.
"We were followed by three Jeeps with his guys and more of his men suddenly appeared with five more Jeeps looking particularly wild, bumping over this territory which he had fought through against the Soviets in the 1980s.
"All Brits get defeated in Afghanistan and I got defeated by this tribal feast ... exactly on the same spot as the holly barrier [erected by the Afghans to block the British fleeing along the Khyber Pass].
"It was quite clear by 4pm we weren't going to get to Gandamak which was where the British had their last stand.
"But we were very lucky we didn't make it because on the return to Jalalabad on the main road that evening there was a huge battle.
"I was saved by gluttony."
William Dalrymple
*British historian and broadcaster, born in Scotland in 1965, based in Delhi since 1989. Educated at Trinity College, Cambridge.
*At the age of 21, he followed on foot the route of Marco Polo from Jerusalem to Mongolia, and wrote about the journey in his first book, In Xanadu.
*In 1994 he was named Sunday Times Young British Writer of the Year for his book City of Djinns. White Mughals (2003) won the Wolfson and Scottish Book of the Year prizes, and will be made into a film directed by Ralph Fiennes.
*He is a founder and co-director of Jaipur Literature Festival, and the Whitney J. Oates Fellow in Humanities at Princeton University.
Return of a King
William Dalrymple, ASB Theatre, Aotea Centre, Friday, 7-8.15pm