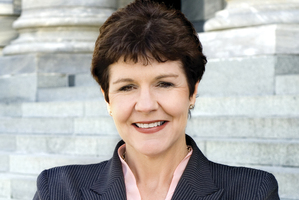 Dr Jackie Blue says it is unacceptable that only 33 per cent of our MPs are women.
The outgoing National Party list MP delivered her valedictory speech today, as she prepares to become the Equal Employment Opportunity Commissioner, and said she would like to see more women in Parliament and more diversity.
Her achievements while in Parliament include the breast cancer drug Herceptin becoming a Pharmac-listed drug.
"Mr Speaker when I completed my medical degree back in the early `80s, neither I nor anyone around me would have predicted I would have ended up in politics and then move on to be the Equal Employment Opportunity Commissioner at the Human Rights Commission; but life is full of twists and turns, but most of all opportunities.''
She said the opportunity to get involved with the National Party came in 2001, while advocating for breast physicians.
Since becoming New Zealand's first breast physician, Dr Blue was heavily involved with lobbying for full funding for the breast cancer drug Herceptin.
While National was in opposition she accepted several petitions calling for full funding of the life-saving drug.
When the National Government came into power in 2008 it became fully-funded.
Previously women had been required to pay (up to) $120,000 for the treatment.
It was regrettable that the number of breast physicians had not grown in New Zealand, Dr Blue said.
"Twelve months is considered to be the international standard. For Pharmac to continue to support financially a trial that offers a nine-week Herceptin course is in my opinion dubious and possibly unethical.''
Dr Blue said the opportunity to chair three cross-party groups had been life changing for her.
"It has been the work of these committees that has left me utterly convinced that society must back its women and girls.''
"No society can achieve its full potential when part of the population is denied the opportunity to achieve theirs,'' she said.
"If our Parliament perfectly represented our diverse society we would have eight Pacific MPs, we have five; three Indian MPs, we have two; eight Asian MPs, we have three; one Middle Eastern, Latin American or African MP, we have none, 18 Maori MPs - we have 22.
"And of course, Mr Speaker, we would have 50 per cent women MPs - we only have 33 per cent. This is unacceptable in the 21st Century.
"We can, and we must, do better.''
Dr Blue thanked Justice Minister Judith Collins for giving her support in going public with her own story of domestic violence.
In 2011 Dr Blue told her story to New Idea.
In the article, Dr Blue recalled unpredictable violent episodes in a relationship 28 years ago, including times when her then-partner would punch and kick her and try to smother her with a pillow.
She put a stop to the violence after two years, calling the police when she was punched in the face several times because her partner was angry about the attention she was getting from friends at a barbecue.
Now 57, and married with two adult daughters, Dr Blue told her story to raise awareness for the Shine helpline, a confidential service for abuse victims.
MPs from across the House hugged her after her speech.