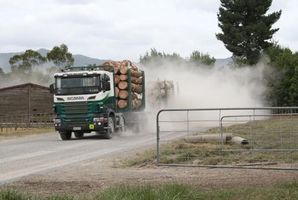 Many rural Northland residents are living with unhealthy levels of fine dust particles thrown up by heavy traffic on unsealed roads, tests show.
Results from PM10 (particles' micron size) tests carried out by Northland Regional Council (NRC) on four unsealed roads in Northland show dust levels high enough to be a "nuisance" at some time at all the sites.
On nine days out of the 21 where the monitoring was deemed 100 per cent valid, largely because of optimal atmosphere and wind conditions, the National Environment Standard (NES) minimum particle size considered dangerous to human health was exceeded.
The monitoring, between March 14 and April 10, targeted airborne solid matter small enough to be inhaled.
A working group comprising NRC, Kaipara, Whangarei and Far North Districts and Northland District Health Board (NDHB) is developing a draft strategy to help deal with the problem. It will recommend the most cost-effective way of addressing the problem at each site.
Northland medical officer of health Loek Henneveld said that as the results indicated a health risk, not just a nuisance, the NDHB would support lobbying the Government for assistance if that was a direction the draft strategy took.
NRC chairman Craig Brown said full-scale sealing of roads in Northland where there was a dust nuisance was "an unrealistic prospect". "At this stage there's not a lot to add to what we've already been doing," Mr Brown said. "At the moment it's up to the district councils to maintain the roads in their respective areas."
In March the NRC gave consent for Whangarei roading contractor Fulton Hogan to trial a "dust-lock" sealant near Pipiwai. The waste oil product supposedly had most of the heavy metals and other contaminants filtered out, but its use was slated by Forest and Bird Protection Society which claimed it breached the council's Water and Soil Plan.
The ongoing trial has been paid for by Hancock Forestry, which manages most of the logging activity responsible for the increased road dust problem.
For more articles from this region, go to Northern Advocate