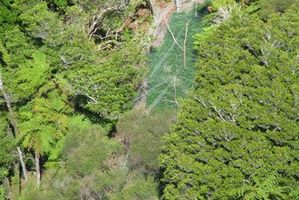 An aerial operation by police has uncovered 1737 cannabis plants in the Wanganui area and 2344 in Ruapehu.
Central Districts police say information from the public was a major factor in the success of the crackdown which saw a total of 10,224 plants recovered - 90 plants up on last year's haul.
Of the total number of plants discovered, 5918 were from the aerial operation, with the other 4306 coming from search warrants.
Among those warrants was one executed in Waverley, which led to a significant drug seizure.
Three weeks ago a cannabis drying operation was located at a property just north of Waverley. The property had been of interest to police for some time.
Officers seized 770 plants that were drying in a shed and several kilograms of quality cannabis head, and they believe the cannabis was grown at another location and brought to the shed to dry out. Four men were arrested and charged.
A 59-year-old was charged with allowing their premises to be used for drug offending and the other three, in their mid-30s, have been charged with cultivating cannabis and possession for supply. This investigation is ongoing.
Central District operation co-ordinator Detective Senior Sergeant Keith Borrell said information received directly and through Crimestoppers had sent a clear message that people didn't want drugs in their communities.
"The public's support, partnered with our enforcement activities, delivers a strong blow to illicit drug rings," he said.
Together with the rural recovery, there is a significant ground phase which this year resulted in 80 search warrants against drug dealers and cultivators in the district.
The annual operation started with intelligence-gathering and was followed by an aerial search using Air Force Iroquois helicopters to winch police officers into cannabis plots.
Cannabis was located in 108 plots and 122 offenders were identified, resulting in 178 charges.
Officers also found two drug labs and recovered firearms, vehicles, cannabis seeds, ecstasy tablets and methamphetamine.
Mr Borrell added that police were committed to dismantling illicit drug networks. "With the vital support of the public, we can keep drugs out of communities and ensure that they are safe places to live."
Anyone with information about drug cultivation, manufacture or supply should contact their local police. Alternatively, information can be provided anonymously via Crimestoppers on 0800 555 111.
For more articles from this region, go to Wanganui Chronicle