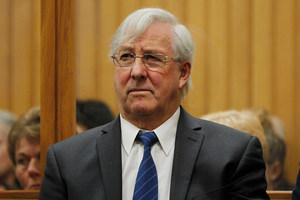 Convicted killer Menzies Hallett was refused the defence of provocation because no ordinary New Zealander faced with the same circumstances would have shot Rodney Tahu, a judge found.
Judge Duffy found there was no evidence for a partial defence of provocation, so it was not put to the jury during Hallett's trail in the High Court in Rotorua in April.
The reasons for the finding were released by the High Court yesterday.
Hallett was found guilty of shooting service station worker Mr Tahu in 1979 after he refused to re-open the service station to allow Hallett to buy oil.
Hallett had been drinking and was angry about a dispute with his former wife when he arrived at the service station in Turangi.
When Mr Tahu refused to re-open, Hallett called him a "black bastard". When Mr Tahu stepped towards him, Hallett shot him in the shoulder and then in the head while Mr Tahu was lying on the ground.
Judge Duffy said to use a defence of provocation it would need to be considered whether Mr Tahu's actions or words were enough to deprive an ordinary person the power of self-control to the point where he or she would have shot at him.
"I found it impossible to imagine any ordinary New Zealander who was met with the circumstances confronting Mr Hallett, acting in the way that the Crown's evidence portrayed," Judge Duffy's decision said.
"In my view, faced with the conduct of Mr Tahu that night, no ordinary New Zealander would resort to firing shots in the vicinity of Mr Tahu, let alone at him."
The defence of provocation was repealed in December 2009, but was available to Hallett as it was still in place when the crime took place in 1979.
Also released today was Judge Duffy's reasons for allowing Hallett's former wife's evidence to be heard.
Hallett had confessed to his wife after the shooting, but in 1979 the law prevented her from giving evidence against him. The Evidence Act 2006 removed this prohibition, after which the police laid a fresh charge against Hallett.
During the trail last month, Hallett objected to the evidence on the grounds the 2006 Act did not apply at the time of the confession.
This was rejected on the basis the 2006 Act was a change in procedure, rather than a removal of any substantive right Mr Hallett may have previously held.
Hallett then made a fresh objection that his former wife's evidence was inadmissible as a confidential communication, which was also rejected.
Hallett will be sentenced on July 12.
- APNZ