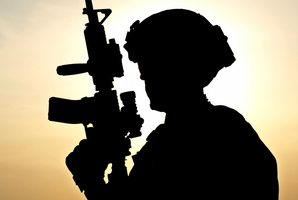 Six translators who helped elite New Zealand troops in Afghanistan and who fear for their lives are demanding to know why they haven't been granted asylum like other interpreters.
The Afghan interpreters say they face increasing intimidation and threats for helping foreign forces and are jobless as employers feel they cannot be trusted.
The group applied for resettlement two years ago but have not received the offer of asylum granted to other locals who helped New Zealand troops and police in Bamiyan and Kabul.
Interpreter Mohammed (full name omitted to protect his identity), speaking to the Herald from Kabul, said that since SAS combat troops left in April 2011 he had been unable to return home to his family home on the outskirts of the city.
"We are very scared about our lives," he said.
The group of interpreters had worked for the SAS for 2 years before the troops' withdrawal in 2011.
Mohammed said he received a letter via the New Zealand Embassy in Kabul which said his application had not been accepted because he was not at risk and was employed.
Immigration Minister Michael Woodhouse's office is investigating the applications.
Mohammed said interpreters were being targeted by Taleban for co-operating with foreign troops.
The 23-year-old had worked on a rescue bid of a kidnapped interpreter for British troops while working with International Security Assistance Force (ISAF) troops, but the interpreter was found beheaded.
A family member had also been killed by an improvised explosive device near his family home last month - an attack which was not related to Mohammed's job but underlined the volatility of the suburb he used to live in.
He said that all of the interpreters had been jobless since working for the New Zealand Defence Force.
"I have been trying a few positions in Afghan administrations. I was called a spy ... for ISAF troops and New Zealand troops and they were telling me they don't trust me."
Another interpreter for the SAS, Karim, said he was living in the Takhar Province in north-east Afghanistan, which he described as a Taleban stronghold. He said he slept with a pistol because he was worried he would be targeted.
Last month, 30 Afghan interpreters arrived in New Zealand with 65 family members for resettlement after a change in Government policy allowed interpreters who had worked with the New Zealand-led Provincial Reconstruction Team (PRT) in the past two years to be offered asylum or a lump-sum payment.
All the former interpreters for the PRT chose to come to New Zealand.
Mohammed said his group was just as worthy as they had worked on risky operations in Kabul and surrounding provinces.
"Those interpreters working in Bamiyan were not dealing with criminals, they were not dealing with operations, military tactics. They were taken and we are not sure of the reason for that.
"Unfortunately after all the efforts that have been made for us, we have not been given a positive response."
The interpreters worked for the SAS from 2009 to 2011.
The Herald was unable to reach the Defence Minister and Immigration Minister for comment yesterday.