Doctor working in NZ had been diving for 15 years but wreck adventure proved fatal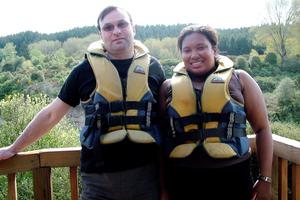 The heartbroken husband of a young New Zealand-based doctor who died while scuba diving in Vanuatu is vowing to fight for answers.
Laila Osunsade was diving the wreck of the SS President Coolidge off Espiritu Santo 10 days ago when she got into trouble. The 33-year-old American was brought to shore but could not be revived.
Her husband of five years, Damien Healy, said he was devastated.
"Laila was the most wonderful, caring person ... I've lost the most beautiful person in the world."
Osunsade did not have any health problems and was an advanced diver, he said.
"She had 15 years' experience of diving and she loved the water. I can't understand it."
A Vanuatu autopsy report listed the cause of her death as unknown but a second will be done after her body arrives in New Zealand today.
Osunsade was diving with Aquamarine Santo Diving Company but no one from the company had contacted him, Healy said.
Aquamarine managing director Rehan Sayed would not speak with the Herald on Sunday, but the company told the Daily Post newspaper in Vanuatu that Osunsade had finished her dive and was going to a decompression stop point when she was seen unexpectedly swimming back to the wreck.
Osunsade was an ear, nose and throat specialist who had worked in several North Island hospitals since moving to New Zealand four years ago, Healy said.
"Most of us have jobs that don't make a difference in the world, but she did make a difference."