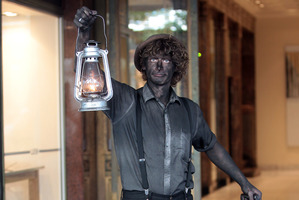 Judges on The X Factor nurture or crush the dreams of wannabe stars on television - but they may be missing some of New Zealand's hottest talent on the streets of our towns and cities.
In Auckland, all bored teenagers and beggars converge on the sun-starved chasm of Queen St. All buskers must converge here, too, so it seems the ideal place to judge their skills.
We may not have the TV show's judges, Daniel Bedingfield or Stan Walker, but we have put together our own plaid-clad celebrity judging panel.
TV larrikins Jono Pryor and Ben Boyce joined former UK X Factor star Jonathan Ansell to judge our street performers.
It's lunchtime on a weekday, and the trio start halfway down Queen St. First to face the judges is Jordan Mooney. But does a bloke covered in paint, standing still with a spade, count as a busker? Why not - we're an inclusive lot.
"It's an energetic performance," Pryor notes. "Ten points for weaponry." Mooney's moody rendering of an oppressed coal miner has Boyce channelling metaphors.
He says the motionless show invokes Simon and Garfunkel's smash hit The Sounds of Silence.
Suddenly, Mooney lifts his hat. The movement is as surprising as an unqualified apology from Aaron Gilmore. Ansell applauds.
Mooney says he has performed for 18 months. "It helps me make ends meet between acting jobs."
We move on down the road. Ansell has been touring the country with the Seven Irish Tenors, even though he's English. The Tenors are an inclusive lot, too. He says The X Factor was an emerging, experimental format when he and pop-opera mates G4 shot to fame. Nine years on, the formula is firmer."You have to fit the format rather than the other way," Ansell says.
Next up is saxophonist Misha Kourkov. Pryor seems the most eager judge. "I love the shininess of his saxophone. He's got good shoulder movement."
Ansell is just happy to have the same shoes as Kourkov. "Thumbs up on the Converses."
Pryor and Boyce also know the importance of style. They say Kiwi X Factor judge Bedingfield's notorious tartan get-ups have inspired their own eye-catching outfits today.
Perhaps, the pair say, they will start to cry - as Bedingfield does when beholding a beautiful performance.
Kourkov's show reminds Pryor of Lisa Simpson, "the most famous saxophonist of them all".
Kourkov plays on.
Further along Queen St, electric guitarist M. W. Sellwood comes into view. His feet move. "He's multi-tasking with the feet. I like that." Ansell says. "He's very charismatic."
He reminds the judges a little of Hendrix. He gets a B-plus, or the equivalent in X Factorese.
"I only just started," Sellwood says, as a torrent of bloated, post-lunch office workers roll past. "I'm normally here more in the evenings and night time. Music is better at night time. It gets people dancing."
The judges move on. "Has anyone got money?" Pryor asks.
Our fourth unwilling contestant is acoustic guitarist Rogan Mortimer. He plays opposite a sleeping hobo, and beside a cafe. A waiter lends us tables and chairs. Now foot traffic grinds to a crawl.
Jono and Ben's fans materialise, posing for pictures with their heroes before judging can resume.
"I like the beard. The beard is welcoming, it's inviting," Pryor says of Mortimer. "He looks like he's been busking here for about 15 years and just hasn't moved."
The hobo snores away, barely a metre behind the seated judges.
"I'm enjoying his vibe," Ansell says. "He seems to be having fun."
The X Factor has spawned some lucrative spin-offs.
The Herald on Sunday's Busk-Factor may not be among them. But, just like flashy TV shows, we have run out of time.
So, what gives a busker the X factor? "It's about footpath presence, and he's got it," Boyce says, referring to Mortimer.
The guitarist plays on. The hobo sleeps.