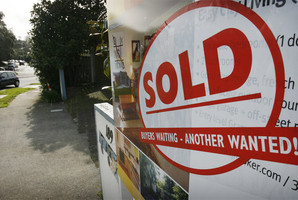 A property buyers' advocate says that while it is positive a political party is tackling the problems around affordable housing, it would be "irresponsible'' if that resulted in compromising construction quality.
Labour has promised first home-buyers their first foot onto the property ladder for no more than $300,000 in a plan to tackle the country's housing crisis.
The party's leader David Shearer and its housing spokesman Phil Twyford today met industry representatives including housing, architecture, banking, construction, council and legal experts to discuss how to implement the party's ambitious KiwiBuild project.
"They're all contributing from their point of view, how we can get housing to be affordable,'' said Mr Shearer.
"Some of it's been critical, some of it's been positive but it's all been constructive.''
Home Owners and Buyers Association of New Zealand president John Gray said said there were still several questions around the proposed market price that needed to be answered.
"We are all concerned that in order to bring construction costs down to achieve the proposed price point there may have to be compromises in the quality and sustainability of these homes.
"We say that it would be irresponsible to allow that to happen and there are other ways to reduce the end-to-end cost including alternative funding models, release of Crown land for development and central and local government bearing more of the cost burden of the development costs related to creating these new communities,'' he said.
Labour's large-scale plan aimed to deliver 10,000 ``modest entry-level'' stand-alone, terrace and apartments every year for 10 years.
Each house will be sold for no more than $300,000 in high-demand and high-cost areas such as Auckland, Tauranga, Queenstown, Nelson and Wellington.
Only 5 per cent of houses currently being built were in the affordable range, and the growing supply problem would have a long-term national impact, said Mr Shearer.
"In Auckland in particular, house prices are going through the roof and first home buyers aren't getting a look in.''
The high cost of building new homes, global financial crisis and land supply issues have contributed to rising housing costs, causing many people to leave the country, said Mr Twyford.
Under KiwiBuild the sale of bonds and profits from houses sold would be used to generate the money needed to pay for the self-funding project.
Prime Minister John Key has previously scoffed at the plan he described as a "fantasyland'' idea.
He said a $300,000 limit would mean finding sections in Auckland for $50,000 - an impossible feat.
But Mr Shearer disagreed: ``Certainly for apartments, for terrace houses, that sort of construction, averaged out, I believe we can do much much better than we're doing at the moment.''
- APNZ