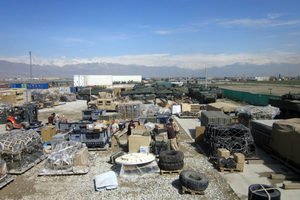 Equipment and supplies accumulated by New Zealand personnel over 10 years are to be returned from Afghanistan to New Zealand in one of the Defence Force's largest logistic operations in decades.
During the past last eight months a NZ Defence Force team in Afghanistan has organised for 100 truckloads and 35 C-130 Hercules-loads of materials to be transported out of Bamiyan.
Royal New Zealand Air Force and the US Air Force also provided support.
"We identified what needed to be brought back to New Zealand, and items that could be gifted to the local community such as some vehicles, furniture, medical consumables and cleaning stores," said commanding officer of the mission closure team Lieutenant Colonel Richard Weston.
The remaining materials were expected to be returned to New Zealand later this month on three chartered freight flights.
Unpredictable winter weather, the isolated location and potential threat from rebels added to the difficulty of the operation, said Lieutenant Colonel Weston.
The final group of Kiwi soldiers who served in Bamiyan returned home from Afghanistan last month, marking the end of New Zealand's decade-long commitment in the province.
- APNZ