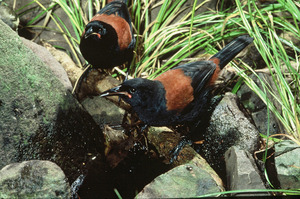 Up to 40 saddleback (tieke) are to be released on Maungatautari this weekend, adding yet another native bird species to the ecological island's growing number of rare and endangered New Zealand wildlife.
It will be the first time in more than a century that tieke have been on the mountain, near Cambridge, the earlier birds having been wiped out, along with most other native bird species, by predators before the turn of the 20th Century.
The tieke are being caught on Tiritiri Matangi Island in the Hauraki Gulf, a pest-free sanctuary where the birds have been successfully breeding since reintroduction in the 1980s.
They will be held on-site while undergoing quarantine to ensure they are healthy and disease-free, and then brought to the Maungatautari Ecological Island Reserve late in the week for release into the reserve's Southern Enclosure at the weekend.
The release has been funded by a generous private donation from Dave and Jenny Carden.
The birds are being captured by a specialist team including representatives from Maungatautari Ecological Island Trust (MEIT) led by Dr Kevin Parker, who has managed six previous successful tieke translocations to other sites around the country.
The birds are caught by being enticed into mist-nets, using recordings of tieke calls.
Already in the 3400ha Maungatautari reserve are kiwi, kaka, takahe, hihi/stitchbirds, kereru, tui and bellbirds, as well as tuatara and Mahoenui giant weta. The reserve is protected by a 2m-high pest-proof fence, and virtually all mammalian pests have been removed from the reserve.
MEIT general manager Malcolm Anderson said the arrival of tieke on the mountain would add considerably to the wildlife reserve's attractions.
"Tieke are known to be strongly territorial and also inquisitive, so it is likely that once they get established on Maungatautari they will be easily visible to visitors passing through their territory. They are also quite vocal, and their sharp call is very distinctive," Mr Anderson said.
"By carrying out the release at this time of year, we hope at least some of the birds will have established themselves in territories and will begin nesting in the coming breeding season, due to start in October."
Tieke are about the size of a male blackbird and have dark plumage with a striking orange-chestnut band across the back and wings.
They are poor fliers, and often feed on the forest floor, or clamber up the trunks of trees, hunting a wide variety of insects. They also eat fruit and sip nectar.
They breed from October to January, building shallow nests in which they lay up to four eggs.
They sometimes raise several clutches a year, depending on food availability, and can live at least 20 years.
- Te Awamutu Courier