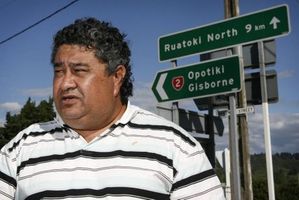 Department of Conservation cuts may be a barrier to Tuhoe's Treaty of Waitangi settlement, that includes Te Urewera National Park.
In Hawkes Bay two jobs will be lost from the Lake Waikaremoana Department of Conservation Aniwaniwa office in Te Urewera National Park and one in Wairoa, under a department shake-up to help it cope with limited funding.
Tuhoe negotiator Tamati Kruger said the iwi was worried about the cuts and was taking the matter to ministerial level before the imminent deal.
Other DoC offices around the park had lost staff under the cuts, part of 70 axed nationwide, which conservation advocates say will have a negative impact on the environment.
"Our settlement entails a working relationship with DoC at an operational and management level and the loss of almost $800,000 from their budget and the loss of staff is of great concern to us," Mr Kruger said.
A significant number of jobs lost in Te Urewera were scientists who monitored health of flora and fauna and informed policy, he said.
"How will the department maintain a service that will diminish with the loss of this money and staff? That is what we are interested in."
Mr Kruger said Tuhoe had met with DoC's deputy director general and senior staff seeking assurances that agreed governance sharing would still be delivered as promised, despite the cutbacks.
A "standard issue of statements wanting to calm and allay fears" had been received.
"We will be looking for an assurance at a ministerial level, that what we have negotiated with the Crown is not watered down."
Mr Kruger said the DoC cuts would likely affect Treaty settlements that had already been made.
"A count needs to be made - how can DoC meet all these commitments?"
For more articles from this region, go to Hawkes Bay Today