More than 40 people are being honoured at Government House in Auckland this week for their outstanding achievements in a range of fields. Steve Deane and Kieran Campbell witnessed yesterday's first investiture.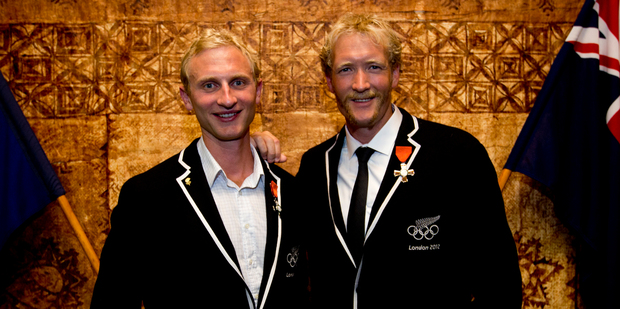 Sir John Kirwan received his knighthood for services to mental health and rugby, but that's not quite how he sees it.
Sir John, who yesterday became a Knight Companion of the New Zealand Order of Merit, takes the Pay It Forward view, where the good fortune he received by being blessed with the ability to play great rugby he passes on in another walk of life.
"Rugby has given me so much, I should be giving back to rugby," he said at his investiture. "This is a game that has given me everything. As a professional coach I am getting paid to do what I love, which is incredible. I don't feel I have given anything to rugby, I feel like the taker rather than the giver."
He felt "humble and proud" as he knelt before Governor-General Sir Jerry Mateparae at Government House yesterday.
"I feel as if I am here for everyone else," Sir John said. "I want to continue giving people hope, and help people understand that depression is an illness not a weakness and you can get through it and be better through the other end."
As coach of the Blues, the former All Black wing is subjected to intense stress on a regular basis. However, the depression sufferer said his mental health was coping just fine.
"I am in great shape. I continue to look after myself daily. I don't think much about yesterday and I don't worry too much about tomorrow. Depression really taught me that.
"I learned to compartmentalise, so I have the ability to just move on. It is only a game. It is a game that I love and am dedicated to, but it is only a game. Yeah I get stressed, you should have seen me in the coaches' box the other night, my heart was going about 400, but it is a positive stress for me."
Rugby remains fun but it is his mental health work that Sir John is most passionate about. He plans to continue it, but isn't looking too far into the future.
"Every day is a day to cherish. Worry about tomorrow tomorrow. Do something cool today. You can control today, make a difference today, even if it is just telling your wife or girlfriend or partner that you love her.
"If you get up with that sort of philosophy then all of a sudden you find yourself standing up the front like me and not really understanding why."
You might think Nathan Cohen would tire of coming first.
The champion rower is one of New Zealand's fastest, his speed streak most notable when he won gold at last year's London Olympics.
Yesterday morning he continued to be first, beating his rowing partner Joseph Sullivan by two weeks to receive his Order of New Zealand honour.
Cohen was made a member of the New Zealand Order of Merit for his services to rowing - a fortnight before Sullivan will receive his at a Wellington event.
Cohen, who joins more than 40 high achieving Kiwis to receive honours over the next two days, said he hadn't planned to beat his teammate to this honour.
"I think it's just Wellington suited him better and Auckland suited myself better," he said with a laugh.
"It's very humbling to receive it, it's sort of something that you never expect."
The 27-year-old started rowing in 1999 and enjoyed it so much he never stopped.
As well as winning gold with Sullivan in the men's double sculls at the London Olympics, the pair have won back-to-back titles at the 2010 and 2011 World Rowing Championships.
Cohen is one of the country's fastest single scullers, having beaten multiple world champion Mahe Drysdale at the 2011 National Rowing Championships. That year he was also named Waikato Sportsman of the Year.
"You never get sick of them [awards ceremonies]," Cohen said.
"All of them are quite different in their own way and this [today] is something that is probably a once-in-a-lifetime opportunity.
"Obviously the gold medal [at the Olympics] was sort of significant in your sporting achievement whereas this [today] is probably a bit bigger than sport alone."
Graham Lowe has scaled the heights of rugby league.
He's coached the sport, been a chief executive, authored books and inspired new generations of leaders.
But it was his proud twins 7-year-old boys Sam and Jack who put the biggest smile on Lowe's face yesterday when he was made an officer of the New Zealand Order of Merit for his services to the community.
"I'm proud of dad," Sam said as his twin Jack chimed in: "I think it's really cool."
Lowe said he was humbled by the honour.
"I'm flattered and I suppose you never feel worthy of it in any case.
"But I've been able to use probably the name I had in my sporting career to help promote other really important issues, like men's health."
Following his career coaching league in New Zealand, Australia and the United Kingdom, Lowe overcame life-threatening health issues and become a successful author and speaker on the topics of leadership, teamwork and men's health issues.
He has written two biographies and a book on fatherhood four years ago called Me and My Little Blokes.
As a successful leader in his own right, Lowe said he felt those leading New Zealand were doing an okay job - even if some acted like children.
"I think we've got a lot of good leaders [in this country]," he said. "I suppose it sometimes looks like you're looking at a kindergarten, but overall I'm proud of our leaders."
Lowe said misbehaving MPs like Aaron Gilmore in his Hanmer hotel outburst needed to be disciplined in the same way they acted.
"[I'd treat Gilmore] exactly the same as you'd treat someone in your kindergarten: you'd make them go and stand in the corner for a while," Lowe said.
And the political equivalent of standing in the corner?
"I don't know but I'm sure they've got plenty of corners."
Hamish Bond and his rowing partner make a formidable team.
So inseparable are they that Bond and Eric Murray were side-by-side in their Olympic blazers yesterday as they were made members of the New Zealand Order of Merit for their services to rowing.
"The nature of our sport and our event is that we are, I guess, intrinsically linked, probably for perpetuity," Bond said.
"I guess it's Bond and Murray or Murray and Bond, whatever way you want to put it around.
"And I'm comfortable with that.
"Each of us couldn't have done it without the other and each of us is an important cog. So I'm comfortable with being part of a team, a small one at that but it's still a team."
Bond said he hadn't had a lot of time to comprehend the significance of yesterday's honour.
"I've been busy," the Olympic gold medallist said, training right up until a few hours before the ceremony with the goal of repeating the success he's already had.
"You don't get sick of [awards]," Bond said.
"I personally didn't start out rowing to receive awards or anything like that. We just wanted to see how far we could go in the sport.
"[Yesterday's] award is probably recognition of the impact sport has on the community and the public at large and that's something that we've noticed since coming back from London.
"We do have the power to inspire, I guess, and going to schools and seeing the reaction of kids has sort of brought that home."
The accolades continue to add up and Bond says he hopes they will keep coming.
"It's pretty obvious what the goal is ... to carry on winning.
"We've achieved really everything as far as accolades in our sport and our event but I guess the challenge at this stage is to do it all again."
As a champion athlete, Eric Murray has a lot of respect for the responsibility of being a role model.
Yesterday the Olympic gold medallist was awarded another accolade to add to his endless list of achievements.
Murray was made a member of the New Zealand Order of Merit for his services to rowing, an honour he said reminded him of the importance of being a positive role model for youngsters.
"That's one thing with sportspeople in New Zealand is it doesn't matter what [sport] you do, you're looked up to as a role model," Murray said.
"You've got to be careful of what you do and we like to think we don't do what a lot of rugby players do and get in a bit of strife."
The Cambridge rower won gold in the men's coxless pair at the London Olympics, setting new Olympic and world records at the same time.
Together with rowing partner Hamish Bond, the pair have won four World Championship titles and been named the International Federation of Rowing Associations' Rowing Crew of the Year in 2011.
"You don't get recognised just to be recognised, you've obviously done something that gives you the recognition from your peers, from the community, from New Zealand," Murray said.
"That's the great thing about it is we've obviously done a great justice to our country."
Murray said yesterday's honour had an important place among his other achievements.
"Mainly all of our ones have been sporting [awards] hung around our necks, so this is different and it's pretty great to be recognised," he said.
"It's really humbling and it's something that doesn't come around very often.
"If I can project myself as a good upstanding citizen then that's all I'm trying to do."
It was listing in the Herald that convinced Peter Thorburn that rugby players north of the harbour bridge needed their own union.
This newspaper published the names of trialists for the Auckland U17 rugby team.
"There were 117 names and only three from the other side of the bridge," recalls Mr Thorburn, who was yesterday invested as a member of the New Zealand Order of Merit for his services to rugby.
The edition in question was published in 1977. What followed was a series of increasingly clandestine meetings as the movers and shakers behind the North Harbour venture plotted their course.
When the union came into existence in 1985, Mr Thorburn was the head coach. Harbour's elevation to the NPC's first division in just its third season was the highlight of a 47-year career playing, coaching and administrating rugby, he said. "It was a tremendous opportunity. I knew we had the players who just weren't getting the breaks on the big Auckland scene."
The early days were tough but rewarding. While Auckland enjoyed the plush surroundings of Eden Park, Harbour trainings were often held at Kaukapakapa, with the headlights of parked cars used to light the pitch.
"That was soul-building," Mr Thorburn said. "Hardship is very good. The goals and tasks shouldn't be insurmountable, but [hardship] is really character building."
At his investiture yesterday Mr Thorburn said he was "really quite chuffed" to have been recognised.
"You don't do things for rewards but it is really nice to feel you have contributed something.
"The greatest thing in life is helping people, teams or family reach their potential.
"Having an involvement in that, the satisfaction you get outweighs everything else in my view."
There seem to be an awful lot of different New Zealand honours. Just how many different types are there?
Eight. The top honour is the Order of New Zealand, which is restricted to 20 living persons. Below that is a Knight or Dame Grand Companion of the New Zealand Order of Merit (GNZM), then a Knight or Dame Companion (KNZM or DNZM). The eighth, or lowest class of honour, is the Queen's Service Medal.
So what do you have to do to receive an honour?
It varies. GNZMs are awarded for pre-eminent contributions in any field over a sustained period, usually gathering international recognition. The other titular honours, like the one Sir John Kirwan received, are for pre-eminent contributions at national or international level. The lower honours are for varying levels of community service.
It all seems pretty hard to keep up with. Don't we keep changing the system?
Well, yes. From 1999-2009, the awarding of the titles of knight and dame was abolished. Instead we had Principal Companions and Distinguished Companions. When the system was changed again, the people who had been appointed to those ranks were given the option of becoming Sir or Dame. Most did, but some opted not to, including authors Witi Ihimaera, Joy Cowley and Patricia Grace and Hollywood star Sam Neill.
Geoffrey Ricketts, Auckland, CNZM for services to education, the arts and business
Hon George Hawkins, of Auckland, QSO for services as an MP
Dr John Craig, Whangarei, ONZM for services to conservation
Emeritus Professor Glynnis Cropp, Palmerston North, ONZM for services to research in the humanities
Robert de Leur, of Auckland, ONZM for services to the building industry
Graham Lowe, Albany, ONZM for services to the community
Diane Brown, Dunedin, MNZM for services as a writer and educator
Nathan Cohen, Cambridge, MNZM for services to rowing
Dr Reena Ramsaroop, Auckland, MNZM for services as a histocytopathologist
Ann Andrews, Auckland, QSM for services to the community
Giri Gupta, Auckland, QSM for services to business and the Indian community
Jillian Nerheny, Auckland, QSM for services to the community
Patrick Thompson, Auckland, QSM for services to Maori and the deaf community
Barbara Thomson, Whangarei, QSM for services to the performing arts
George Wheeler, Auckland, QSM for services to veterans
Sir John Kirwan, Auckland, KNZM for services to mental health and rugby
Professor Linda Smith, Hamilton, CNZM for services to Maori and education
Dr Wayne Mapp, Auckland, QSO for services as an MP
John Morris, Auckland, ONZM for services to education
Doris de Pont, Auckland, ONZM for services to fashion
Temepara Bailey, Auckland, MNZM for services to netball
Hamish Bond, Cambridge, MNZM for services to rowing
Ian Hay, Auckland, MNZM for services to the community
Eric Murray, Cambridge, MNZM for services to rowing
Peter Thorburn, Auckland, MNZM for services to rugby
Georgia Ball, Auckland, QSM for services to youth and the community
William Burrill, Auckland, QSM for services to regional parks and conservation
Parbhu Kanji, Auckland, QSM for services to cricket and the Indian community
Anand Naidu, Auckland, QSM for services to the Indian community
Patricia Porter, Hauraki Plains, QSM for services to the community
Dame Wendy Pye, Auckland, DNZM for services to business and education
John Buck, Havelock North, CNZM for services to the wine industry and arts
Dr Lester Levy, Auckland, CNZM for services to health and education
John Slater, Auckland, ONZM for services to the community
Selina Webb, Whakatane, ONZM for services to health and education
Stephen Bell, Auckland, MNZM for services to youth
Wendy Duff, Auckland, MNZM for services to people with autism
Dr Anthony Lanigan, Auckland, MNZM for services to tertiary education and the community
Raymond Baker, Auckland, QSM for services to the Jewish community and racing
Donald Brebner, Tauranga, QSM for services to the community
Miyoko Hammersley, Rotorua, QSM for services as a hospital chaplain
Jenifer Prattley, Kaiapoi, QSM for services to the Royal NZ SPCA
Herakwal Singh Bains, Cambridge, QSM for services to the Indian community
Lynette Thornton, Auckland, QSM for services to the community