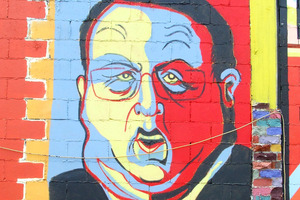 Earthquake Recovery Minister Gerry Brownlee can claim to share fame with American President Barack Obama.
A mural featuring Mr Brownlee's likeness has appeared in the Creative Corner at the New Brighton Mall in a protest taking a swipe at the unbridled powers of the Canterbury Earthquake Recovery Authority.
Christchurch art student Bex Gibbs' designed a poster based on a classic Barack Obama campaign poster for the Democracy Rally last December.
Now she and fellow artist Richard Pops-Baker have come up with a larger version that is bringing some smiles to the city's hardest hit eastern red zone residents.
Ms Gibbs, a former primary school teacher now studying art, is a member of pro-democracy group Suffrajests whose aim is to highlight issues in a fun way.
"We pull political pranks and try to make protest fun," she said.
The mural is based on a stylised stencil portrait of President Obama by artist Shepard Fairey that became a widely recognised symbol of his 2008 election campaign.
"People have said they really like it," Mr Gibbs said. "On one level they recognise Gerry Brownlee and on another level they can understand it's based on the Obama poster."
Ms Gibbs admits Mr Brownlee has been "the butt of most of my protests".
"I figure he doesn't go to the east side very often, so I doubt that he's seen it."
A spokesman for Mr Brownlee said the minister would make no comment.