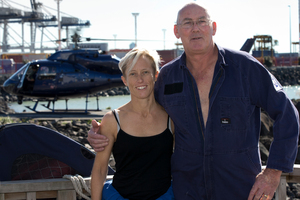 Helicopter pilot Peter Maloney saw a warning light and within seconds knew the aircraft was going down.
"I did observe a turbine warning light then heard an audible warning and declared a mayday," Mr Maloney said yesterday soon after he was rescued from the Waitemata Harbour by the navy and Auckland Westpac Rescue Helicopter staff.
He and crew member Nina Heatley had been taking the prototype carbon fibre helicopter along the East Coast Bays over the water when the aircraft suddenly lost power. A second chopper from Mr Maloney's company Composite Helicopters was flying nearby filming it.
"It would appear we had engine failure. We will need to do a full investigation with the CAA [Civil Aviation Authority] to determine the exact cause."
He turned the aircraft on to its side as it hit the water near North Head. The impact could be seen from the Westpac chopper base at Mechanics Bay, where rescuers scrambled into action.
"Everything went as it should do in conditions like that, and we both managed to get out of the aircraft without any injuries."
The process of rolling it over was to stop the rotor blades.
The crash landing left them unscathed.
"We were probably only in the water for three to five minutes. We were both in good spirits and able to swim. Initially we floated with the aircraft and once the aircraft began to sink we moved away so nothing could snag us ... by which time we probably had only another minute or two until the boats arrived."
He praised the navy for the role it played in the rescue and the rescue chopper crew being so prompt.
Mr Maloney wanted to recover the wreckage to confirm engine failure as the cause. He and wife Leanne were due to leave for Russia tomorrow where they were going to promote the chopper.
He said there had been no hint that something could be wrong before yesterday's crash.
"It's done about 200 hours of flying. The reason we were over the water was because we were still in flight evaluation phase.
"Until now the helicopter has been flying really well."
Westpac Rescue Helicopter chief paramedic Barry Watkin was at the rescue base in Mechanics Bay when he looked up and saw an "almighty splash".
A second chopper from Composite Helicopters was hovering over the crash site and Mr Watkin headed to the scene fearing the worst.
A navy spokeswoman said the inshore patrol vessel HMNZS Taupo happened to be sailing from Devonport Naval Base at the time of the incident.
"It was very much in the right place at the right time to provide rapid response to that emergency."
Composite Helicopters director Tim Pike said: "It's the world's first Composite helicopter, made totally in New Zealand, apart from the engine which appears to have been the downfall of it."
- Additional reporting: APNZ