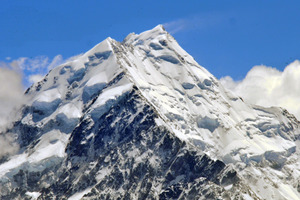 A Malaysian tourist who went missing on Aoraki Mt Cook in 2009 was today ruled dead by a coroner.
Kok Liang Wong, 32, is believed to have died after falling down a steep, rocky gorge after attempting to walk down a track at night.
Despite a large-scale two-day search, his body has never been found.
At a coroner's inquest in Timaru today, police said there were no suspicious circumstances in his disappearance.
He was not likely to have left the area, police concluded.
Senior Constable Leslie Andrew, stationed at Twizel, told the hearing that Mr Wong had last been seen between 2.30pm and 5pm on September 30, 2009 when he confirmed a bus booking at the Mt Cook village youth hostel.
The most probable area of his disappearance was a track known as Red Tarns - which is at the top of a two-hour return trek from Mt Cook village, Mr Andrew said.
He said if descending at night, the lights of the village could be seen ahead but the track veered away and could be disorienting.
Coroner Richard McElrea said it was possible Mr Wong left the track and got into difficulties.
Mr Andrew referred to very steep, rocky terrain, with a "reasonable size" waterfall running through it.
They could not search that area, even with specialist gear and dogs, and the likelihood of ever recovering Mr Wong's body was "very slim".
Mr Wong's sister said that while he was "relatively fit and liked to walk", he had no experience in New Zealand's mountainous terrain.
He had been due to fly from Christchurch to Melbourne on October 2.
Coroner McElrea today found Mr Wong was likely to have died on September 30, 2009, after walking in Aoraki Mt Cook National Park where he "suffered misadventure with likely incapacitation and death soon after".
A "very thorough" search and rescue operation had been carried out in a prompt manner over a number of days and all attempts were made to locate Mr Wong, initially alive, and thereafter to find his body.
- APNZ