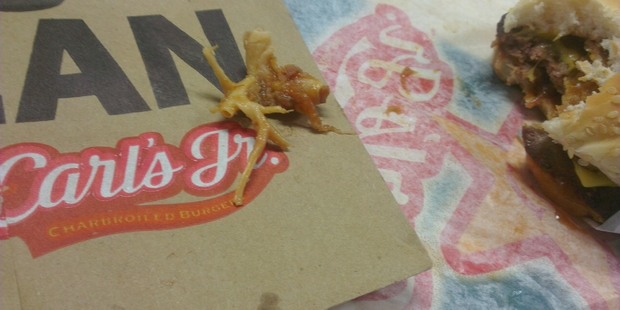 A large chunk of what appears to be an animal artery disgusted customers at a popular Auckland burger joint when it was discovered inside a meat pattie yesterday.
The large, rubbery-looking find was made when a first time customer of Carl's Jr ordered a Memphis BBQ Burger at the Queen St restaurant yesterday afternoon.
A colleague of Nick Koefoed, who did not want to be identified, got more than he expected from his first mouthful of the beef and pork burger.
"He took a bite out of it and pulled [the artery] out of his mouth. He was pretty disgusted - it's pretty repulsive to be honest," he said.
Mr Koefoed, who still has the artery, posted an image of it to the Carl's Jr NZ Facebook page yesterday.
Despite being contacted by Restaurant Brands, which operates Carl's Jr in New Zealand, he was still waiting for an explanation.
"They said that they're surprised that it was there, that's all I have heard from them so far."
A spokesperson last night told the Herald: "Carl's Jr prides itself on providing premium quality food. This is totally unacceptable and we are investigating the incident."