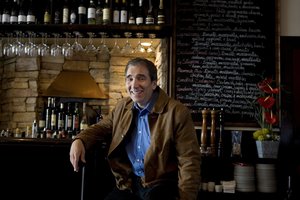 Restaurateur John Palino has put his hat in the ring to challenge Auckland Mayor Len Brown at October's local body election.
Mr Palino, a New Yorker who has appeared on the TV3 show The Kitchen Job, is the first centre-right candidate to challenge Mr Brown, who stands as an independent candidate but is a member of the Labour Party.
The businessman, a New Zealand citizen, has come forward only days after National Cabinet minister and Pakuranga MP Maurice Williamson said he was considering standing for mayor.
Last night, Mr Palino said he opposed Mr Brown's draft Unitary Plan for intensification of residential areas in north, west and east Auckland. Instead, he planned to turn the industrial and commercial area of Manukau into the most liveable modern city in the world, and allow for business growth outside the CBD.
The Mana Party has announced activist John Minto will be standing for mayor. Another veteran protester, Penny Bright, is also standing.
It is understood Mr Williamson's decision to stand could rest on private polling to gauge his support. The MP is riding high after his "big gay rainbow" speech in Parliament during the gay marriage legislation.
At the 2010 local body elections, Mr Brown trounced the centre-right candidate - Auckland City Mayor turned Act leader John Banks - by 66,000 votes.