Tales of revered politician's mischief amuse thousands at 'greatest' farewell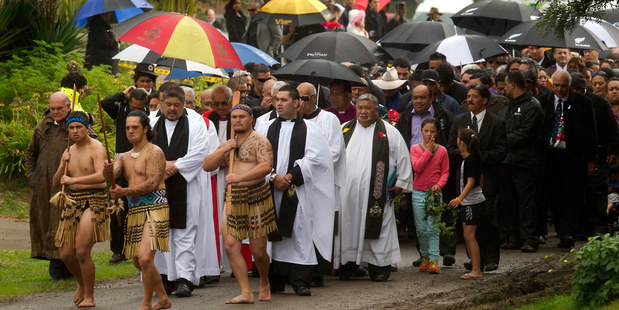 It was a once-in-a-generation tangi: a joyous, rollicking affair that celebrated former Cabinet minister Parekura Horomia's appetite for life. Laughter from 2000 mourners rang out across Hauiti Marae in Tolaga Bay repeatedly during yesterday's final service for him.
Desmond, Horomia's eldest son, thanked everyone for sharing stories of his dad's "mischief". And then he shared some of his own.
"Everybody talks about not being able to understand what he was trying to say. Well, I couldn't understand what he was trying to tell me on his [death] bed.
"He said to me, 'I leave you in charge', and this was the same time he was trying to take his medicine ... I said, 'Well, you've got to take your medicine'. He turns around and goes, 'I'm taking it away - you're not in charge any more'. I said, 'You can't do that to me!"'
Desmond spoke of his mother, Gladwyn, who died 18 years ago.
"My father always held a candle for my mother. We talk about my father being the chief. When he got home he was never the chief. My mother was."
His father's last wishes were for funds to be raised for a new chapel at Hukarere, the Maori girls' boarding school in Napier, and for political parties to form policies that would "feed the people, feed our children".
Padre William Gray, a comedian, reminded mourners of Horomia's love of kai. At a restaurant, he once lost a briefing paper. A staff member told him he'd found it: "It's around your neck. You used it for a napkin."
Piko Nei Te Matenga was the final hymn as the coffin came off the meeting house porch. It's a song that speaks of heartache, a feeling reflected on the faces of MPs from across the House, the Uawa rugby team, army officers, parliamentary guards, iwi leaders and young people farewelling "Uncle Para".
More than a dozen pallbearers carried him off the marae and, for long minutes, he disappeared into the embrace of young men doing super-charged haka.
Later, Maori Affairs Minister Pita Sharples said it all: "They will talk about this for years to come. It will be one of the greatest tangihanga - and so it should be. It shows how love and goodwill can overcome ... and that's what he had in spades."