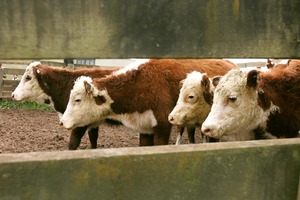 A new action plan between Australia and New Zealand will see defences strengthened against the threat of foot and mouth disease.
Australia and New Zealand will work together to develop a trans-Tasman foot and mouth action plan.
Minister for Primary Industries Nathan Guy and Australian Minister for Agriculture Senator Joe Ludwig announced the two countries will work more closely.
Mr Ludwig said the disease posed one of the single greatest threats to livestock industries and rural communities in New Zealand and Australia.
The Australian Government has estimated a large foot and mouth (FMD) outbreak would cost Australia A$16 billion to control, but it has managed to keep the disease out of the country for 130 years.
The outbreak of foot and mouth in the United Kingdom in 2001 resulted in 2000 cases of the disease, 10 million sheep and cattle killed, and the loss of eight billion pounds sterling.
Mr Guy said both countries were extremely aware of the importance of preparing for the threat, given the importance of the agricultural sector to both economies.
"This work will build on the strong relationship we already have through years of working together on animal health and biosecurity issues.
"It reflects an on-going commitment to improving our knowledge and preparedness."
Mr Guy said prevention remained the first priority for both countries through our world class biosecurity systems.
Key activities under the joint plan include:
- sharing intelligence on emerging animal health risks facing our region.
- developing and improving training activities and FMD detection capabilities, including training in exotic animal disease recognition and participating in joint exercises.
- sharing and comparing economic and disease models of FMD to inform management strategies.
- collaborating on policy development, approaches and operational plans for vaccination and carcass disposal.
- participating in simulation exercises to explore how we could support response efforts in the event of an incursion.
- APNZ