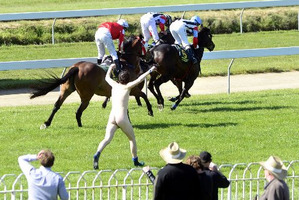 A 20-year-old student who narrowly avoided being trampled by horses as he streaked at the Wingatui racecourse has been discharged without conviction.
Samuel Anthony Ermerins appeared before Judge Emma Smith in the Dunedin District Court yesterday.
He was also ordered to pay court costs of $132.89, make a $1500 donation to the Injured Jockey Trust and $100 for witnesses' expenses.
At a hearing on Monday, Ermerins pleaded not guilty to a charge of criminal nuisance by doing an unlawful act, a charge which was later found proved by the judge.
Racing Integrity Unit general manager Mike Godber said he hoped the fine would act as a suitable deterrent.
"There needs to be some sort of deterrent, or otherwise we could be there again next week, and it may not be a racing event. It could be another sporting event.
"We are not surprised at the result and that a deterrent factor has been put in there by the judge, and we can understand being a student that they don't want to wreck their future job prospects."
A University of Otago spokesman said the tertiary provider would not discuss an individual student's discipline case.
During the November 6 incident, Ermerins, from Christchurch, was chased by security and police officers as soon as the race ended, and later escorted from the course.