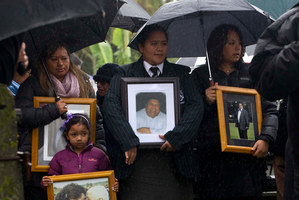 The great and the common man came to farewell Parekura Horomia yesterday.
On the first day of the Ikaroa-Rawhiti MP's tangi mourners were welcomed by teeming rain at Hauiti Marae, near the banks of the Uawa River.
The 62-year old's whanau sat with his feather-cloaked coffin on the porch of Ruakapanga, while tribal orators from across the country spoke of their connection to him over more than six hours.
Each iwi had a reason to thank Mr Horomia. Tauranga Moana representatives spoke of his intervention and help in the return of Mt Maunganui Mauao, Waikato-Tainui of his intervention when Te Arikinui Dame Te Atairangikaahu died - how he managed to get State Highway 1 closed for the burial at Taupiri.
Tuhoe's Pou Temara spoke of his support in getting bones repatriated from overseas that had been sold after a battle between Ngati Porou forces and Te Kooti followers.
In Maori, Dr Pita Sharples' tribute reflected a personal relationship. He told the gathering how some days he wondered if it was him or his friend who was the Maori Affairs Minister, how on his induction to Parliament the Labour MP had invited him to dinner and then left him with the bill.
Earlier, Dr Sharples said: "I've come to say goodbye to a friend, to someone I admire and trust and someone who didn't have a bad bone in his body."
It was a day full of warmth and iwi-in-jokes. When Ngati Kahungunu left their koha on the marae forecourt for collection, Wayne Ngata on behalf of the Te Aitanga a Hauiti hosts pretended it was so heavy it warranted a heaving, dragging action back to his people.
Ordinary coasties and old friends came to pay their respects, too.
An old shearing and fencing mate, Tom Fowell, 65, said that while he and his mates were at the pub, Mr Horomia was sitting exams.
"We were proud of him. He walked himself up the ladder."
He looked at the crowds - more than 1000 had rolled in by the end of the day including the Maori King Tuheitia Paki - and said: "They keep coming and this is just the start of it."